World Series 2013: Cardinals secure controversial win
Last updated on .From the section Baseball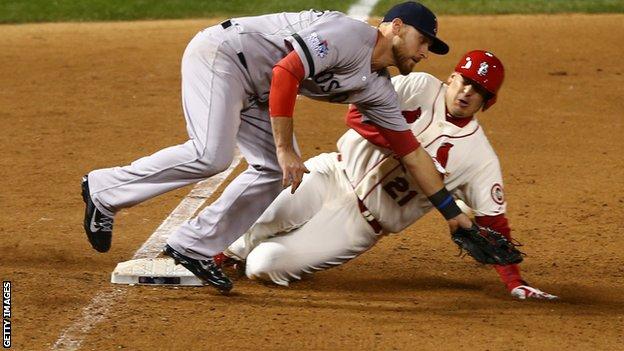 St Louis Cardinals moved 2-1 ahead in the World Series after a winning run against the Boston Red Sox came from a controversial interference call.
With the score tied at 4-4, Allen Craig was tagged by Jarrod Saltalamacchia at the end of the ninth and final innings.
But Craig was ruled home after it was deemed he had been tripped by the third baseman, who was on the ground after trying to catch Saltalamacchia's throw.
It proved decisive as the Cardinals won 5-4 at Busch Stadium.
The incident is considered one of the most contentious conclusions to a game in World Series history.
Will Middlebrooks, the third baseman whose trip led to Craig's stumble, insisted the contact was unavoidable.
"He was on top of me - there was nowhere for me to go," he said.
"If I dive and then army-crawl to second [base] as soon as I hit the ground, that's the only way I get out of the way.''
But Craig said: "I had to do the obstacle course to get home."
Umpire John Hirschbeck maintained that Middlebrooks's intentions were irrelevant.
He said: "Obstruction is the act of a fielder obstructing a runner when not in the act of fielding a ball. It does not have to be intent."
The Red Sox had twice come from behind to pull level but now trail going into the fourth match of the seven-game series on Sunday.
The umpires were also central to the first game, overturning a catch by Pete Kozma of the Cardinals on the way to an 8-1 win for the Red Sox.