World Series Game 5: Boston Red Sox lead St Louis Cardinals 3-2
Last updated on .From the section Baseball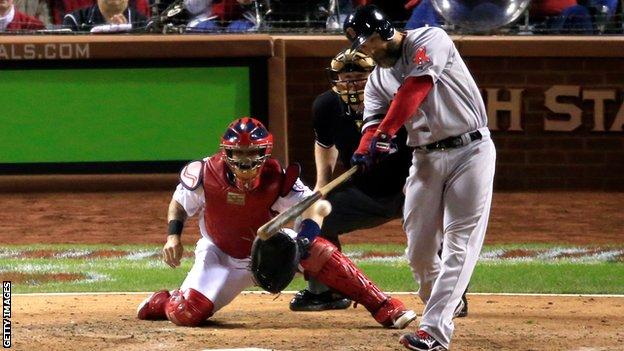 Boston Red Sox are only one victory away from winning the World Series for the third time in 10 years after beating the St Louis Cardinals 3-1 in Game 5 of the 2013 Fall Classic.
The win, Boston's second in a row at the Cardinals' Busch Stadium, means they lead the series 3-2 and have to win just one of the final two games scheduled at their Fenway Park home.
Jon Lester, the ace of the Red Sox pitching staff, produced a dominating performance, outduelling Cardinals right-hander Adam Wainwright.
It was the second time left-hander Lester, who was treated for a form of blood cancer known as non-Hodgkin's lymphoma in 2006, has won a game in this World Series against Wainwright - who won 19 games during the regular season - after the pair faced each other in Game 1.
Lester used the cutter - a fastball pitch that breaks slightly as it crosses the batting plate - to great effect, allowing onlyfour hits and striking out seven Cardinals batters in seven and two-thirds innings.
Wainwright, too, pitched six strong innings, but in the seventh inning, a double by catcher David Ross followed by a base hit by centre fielder Jacoby Ellsbury scored two runs after third baseman Xander Bogaerts and shortstop Stephen Drew had reached base.
The Red Sox got off to a good start in the first inning when their veteran slugger David Ortiz, who is having an outstanding World Series, hit a double, scoring second baseman Dustin Pedroia.
Ortiz later hit a single, which enabled him to get on base successfully for the ninth successive time in this series - tying a World Series record.
His batting average for the series is .733 - meaning he records a hit 7.33 times out of every 10 "at bats", when any batter who averages more than .300 (three hits per 10 at bats) over a season is considered excellent.
Cardinals left fielder Matt Holliday hit a huge solo home run, tying the game at 1-1 in the fourth inning.
But Lester closed the Cardinals down from there, with Red Sox closing pitcher Koji Uehara recording the final four outs.
Lester said: "It doesn't matter how many games at this stage you play, your nerves are going, your heart rate is going.
"It's a matter of realising it's baseball - fastball down and away - in game five of the World Series, that is just as effective as 1 February."
The 2013 series has featured a run of tight and tense games between closely-matched sides.
Pitchers have held the upper hand, with scoring opportunities at a premium.
The series returns to Fenway Park on Wednesday for Game 6 - with a possible deciding game seven the following night if St Louis level the series on Wednesday.