World Series 2013: Boston Red Sox beat St Louis Cardinals
Last updated on .From the section Baseball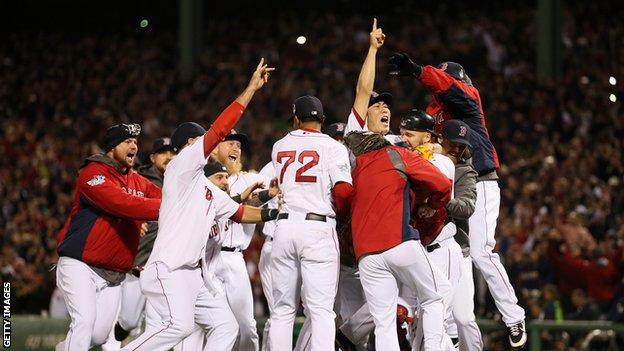 Boston Red Sox won the 2013 World Series with a 6-1 victory over St Louis Cardinals in Game 6 at Fenway Park.
Winning the series 4-2, they clinched the title in front of their own fans for the first time in 95 years.
Boston have now landed three Major League titles in 10 seasons, following an 86-year drought which ended in 2004 when they also beat the Cardinals.
The last time Red Sox won the World Series at home, their pitching staff included the legendary Babe Ruth.
The subsequent sale of Ruth, baseball's greatest star, to the rival New York Yankees was said to have initiated the infamous Curse of the Bambino which Boston took more than eight decades to break.
"I knew this was going to be a special year," said Boston slugger David Ortiz, the outstanding player of the best-of-seven series.
"When we started rolling, nobody ever stopped the train."
Michael Wacha, the 22-year-old rookie Cardinals pitcher, came into Wednesday's game with an outstanding record in this season's play-offs, but lasted only three completed innings.
The Red Sox took a 3-0 lead in the third inning when a double by right fielder Shane Victorino scored centre fielder Jacoby Ellsbury, designated hitter Ortiz and left fielder Jonny Gomes.
Wacha was removed from the game with nobody out in the fourth inning after a solo home run by shortstop Stephen Drew extended the lead to 4-0.
A single by first baseman Mike Napoli scored Ellsbury, and another hit by Victorino with the bases loaded put the Red Sox up by six unanswered runs with the game still in the fourth inning.
Veteran John Lackey, the Red Sox starting pitcher, produced a solid performance, leaving to a standing ovation from an ecstatic home crowd after six and two-third innings.
Cardinals slugger Carlos Beltran scored shortstop Daniel Descalso on a single in the seventh inning, but St Louis left three batters on base when they had a chance to put real pressure on the Red Sox, whose relief pitcher Junichi Tazawa got the crucial out.
Another reliever, Brandon Workman, closed down the Cardinals in the eighth, and closing pitcher Koji Uehara completed the job in the ninth, sparking scenes of jubilation.
"Big Papi" Ortiz, the only member of the 2004 team still playing for the Red Sox, was named as the World Series' most valuable player.
He had a quiet game on Wednesday, but was walked to first base four times, three times intentionally, meaning he successfully reached base 19 times during the World Series. His batting average during the series, .688 meant he recorded a hit nearly seven times out of every 10 "at bats" - when an average of .300 over a season is considered excellent.
Gomes, who spoke articulately following the Boston marathon bombing in April, said: "This is so much more than a World Series championship for this team."
Victorino added: "it's been a fun year, and an enjoyable ride. It's been a special group of guys all year long."
Boston's victory represents a remarkable turnaround from 12 months ago when they finished bottom of the American League East division, with their worst regular season record since 1965.
General manager Ben Cherington faced a daunting task when he took over from Theo Epstein, the man who oversaw Boston's World Series wins in 2004 and 2007, in part by applying the emerging statistical analysis known as sabermetrics highlighted in the book and film Moneyball.
Initially, Cherington struggled. His first team manager Bobby Valentine, who succeeded the much-loved Terry Francona, proved little short of a disaster.
But Cherington has since been more sure-footed, and successfully refashioned the team in little over a year.
He began by shipping out expensive and under-performing stars such as Carl Crawford, Adrian Gonzalez and one-time pitching ace Josh Beckett, who fell out with the fans amid questions over his commitment.
They were replaced by cheaper alternatives, including Napoli, Victorino, Gomes and Uehara, all of whom played a key part in the successful 2013 campaign.
They have been moulded into a formidable unit by new manager John Farrell, who spent four years as Boston's pitching coach under Francona before cutting his teeth as a manager at the Toronto Blue Jays.
There is no doubt that Ortiz will go down as one of the all-time greats in Red Sox history, but the team of 2013 will primarily remembered as exactly that: a tight-knit team, not a collection of egos.