World Series 2014: Royals beat Giants 3-2 to take 2-1 lead
Last updated on .From the section Baseball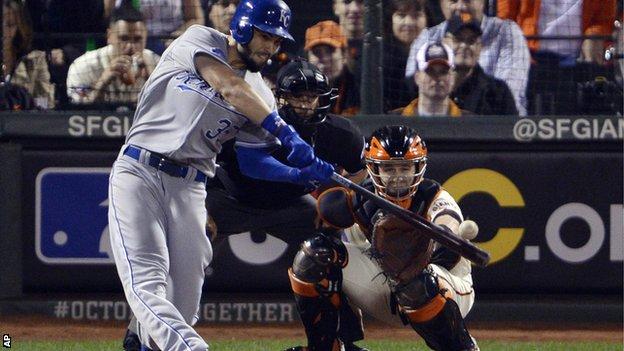 Kansas City Royals beat San Francisco Giants 3-2 in Game Three of the World Series on Friday evening to take a 2-1 lead in the best-of-seven series.
Veteran Giants pitcher Tim Hudson, 39, gave up a run in the first inning when Lorenzo Cain drove in Alcides Escobar.
Alex Gordon and Eric Hosmer drove in two more in the sixth to make it 3-0 but the Giants' rally was too late and the visiting Royals' bullpen held firm.
Game four takes place on Saturday evening, again in San Francisco.
Royals starter Jeremy Guthrie collected the win at AT&T Park after pitching five scoreless innings before pinch hitter Michael Morse's RBI double got the hosts on the scoreboard and catcher Buster Posey drove in a second run.
But with only a slender one-run lead to preserve, the bullpen threw four shut-out innings as closer Greg Holland picked up his seventh save of the post-season.
World Series 2014 (home team listed first)
Game 1:
Kansas City Royals 1-7 San Francisco Giants
Game 2:
Kansas City Royals 7-2 San Francisco Giants
Game 3:
San Francisco Giants 2-3 Kansas City Royals
Game 4:
San Francisco Giants v Kansas City Royals
Game 5:
San Francisco Giants v Kansas City Royals
Game 6 (if required):
Kansas City Royals v San Francisco Giants
Game 7 (if required):
Kansas City Royals v San Francisco Giants