World Series 2014: Kansas City Royals win takes series to decider
Last updated on .From the section Baseball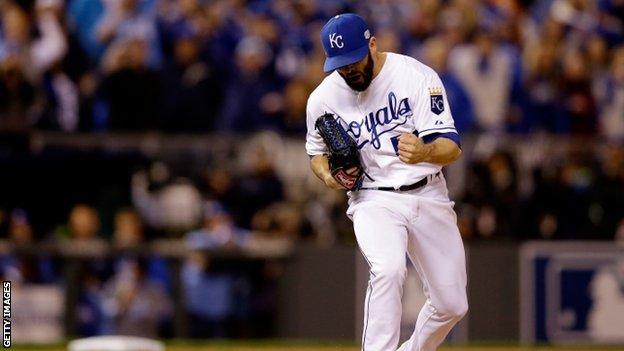 The Kansas City Royals beat the San Francisco Giants 10-0 to take the World Series to a deciding game.
Seven shutout innings from rookie pitcher Yordano Ventura, 23, saw the home side to a comprehensive win.
Ventura wore a tribute on his cap for Dominican compatriot Oscar Taveras, the St. Louis Cardinals outfielder who was killed in a car accident on Sunday.
The Royals win means the 162-game season comes down to one decisive game on Wednesday in Kansas City.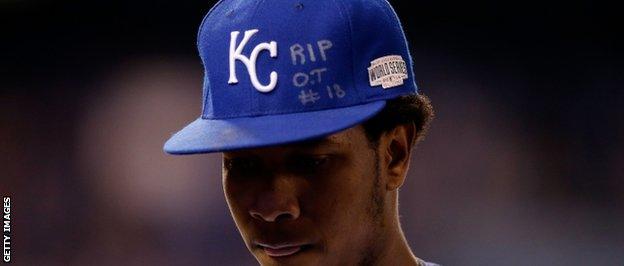 Royals manager Ned Yost said Ventura did well to keep control of his emotions after the weekend's tragedy.
"You've got a 23-year-old kid in the biggest game this stadium has seen in 29 years," he said.
"You can't get in a bigger stage then he was on and to perform the way that he did was special."
World Series 2014 (home team listed first)
Game 1:
Kansas City Royals 1-7 San Francisco Giants
Game 2:
Kansas City Royals 7-2 San Francisco Giants
Game 3:
San Francisco Giants 2-3 Kansas City Royals
Game 4:
San Francisco Giants 11-4 Kansas City Royals
Game 5:
San Francisco Giants 5-0 Kansas City Royals
Game 6:
Kansas City Royals 10-0 San Francisco Giants
Game 7:
Kansas City Royals v San Francisco Giants (29 October)