World Series: San Francisco Giants beat Kansas City Royals
Last updated on .From the section Baseball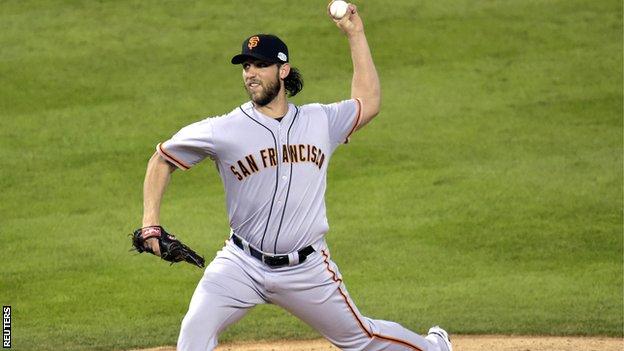 The San Francisco Giants won a third World Series title in five years with a 3-2 victory over the Kansas City Royals in the deciding match of the series.
The Royals, who won their only title in 1985, had taken the best of seven series into a finale with a 10-0 win.
But Madison Bumgarner pitched five scoreless relief innings, striking out four while allowing only two hits.
The left-hander was named the World Series Most Valuable Player as the Giants won their eighth overall title.
Bumgarner, 25, originally credited with the game-seven win before an official scorer's change gave him only a save and handed Jeremy Affeldt the win, allowed only one run in 21 World Series innings with 17 strikeouts and only one walk.
He lowered his career record World Series earned run average to 0.25, having allowed one run in 36 innings on 14 hits, with five walks and 31 strikeouts - the best earned run average among pitchers with at least 25 innings.
"It's truly incredible what he did," Giants manager Bruce Bochy said. "I just can't believe what he accomplished."
Bumgarner, who also won the World Series with the Giants in 2010 and 2012, said: "I was concentrating on making pitches. I wasn't thinking about how many innings I was going to go, or how many pitches or anything like that. I was just thinking about getting outs."
World Series 2014 (home team listed first)
Game 1: Kansas City Royals 1-7 San Francisco Giants
Game 2: Kansas City Royals 7-2 San Francisco Giants
Game 3: San Francisco Giants 2-3 Kansas City Royals
Game 4: San Francisco Giants 11-4 Kansas City Royals
Game 5: San Francisco Giants 5-0 Kansas City Royals
Game 6: Kansas City Royals 10-0 San Francisco Giants
Game 7: Kansas City Royals 2-3 San Francisco Giants