Liam Carroll: New GB baseball coach targets 2020 Olympics
Last updated on .From the section Baseball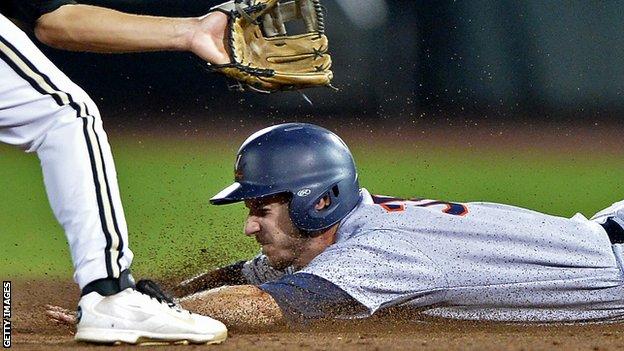 How do you turn a national team into one of the six best sides in the world, in a country with just one custom-built facility?
If that does not sound challenging enough, try doing it in just four years in order to qualify for the Olympics.
But that is exactly the goal for Liam Carroll, who in January took charge of a British baseball team ranked 22nd in the world, behind countries including Israel, Colombia and the Philippines.
A brief history of British baseball
Played professionally in the 1930s
World champions in 1938
European silver medallists in 1967 & 2007
Relegated to the European B-Pool - or qualification division - on several occasions, most recently in 2012
Promoted to the A-Pool in 2013, finishing ninth at last year's European Championships
Baseball last appeared in the Olympics at Beijing in 2008, but it could be re-introduced for the Tokyo Games in 2020 if the International Olympic Committee votes in favour next year.
Given that Japan are second in the current world rankings, and more than 20 million fans attend games in the country each year, it is no surprise there is confidence that a baseball and softball bid will be successful.
To reach the Olympics, the British team first needs to improve its ranking sufficiently by the end of 2018 to take part in the Premier 12 competition, which will make its debut in November and take place every four years.
"It makes a whole load of sense given how baseball-crazy Japan is, so the ultimate goal over the next five years is to qualify for the Olympics," Carroll told BBC Sport.
"My understanding is the top six (from the Premier 12 competition) qualify.
"We've got until 2018-19 to improve our rankings points and there's certainly the opportunities between now and then to win those rankings points."
The news that baseball would be dropped from the list of sports for London 2012 came just three days after it was announced Britain would be hosting the Games.
The decision hit Carroll hard.
"The whole concept of the Olympics when we hosted it seemed to be about legacies, and I think a lot of British children were denied a legacy," the 33-year-old said.
"In my opinion - and of course I'm biased - baseball provides opportunities for more different types of people than any other sport.
"When we talk about legacies, if baseball had been played in London I think a lot of children would have been able to find the right sport for them, and I think that's a real pity."
Carroll's background
Playing career
Crewkerne Cutters, 1994-96; Bracknell Blazers, 1998-2003; Brighton Buccaneers, 2004
Porterville College (California), 2001-2003
Great Britain Seniors, 2003 European Championships
Coaching Career
GB Juniors assistant coach, 2004-07; Head coach 2008
Director of Baseball Operations, UNLV, 2004-2007, 2009-2010
GB Lions head coach, 2012-14
Great Britain assistant coach, 2013-14; Head coach, 2015 - present
Olympic qualification is at least four years away and, in the meantime, the new coach has plans for making a mark at next year's European Championships in the Netherlands, a competition which the hosts and Italy have traditionally dominated.
The tournament sees 12 teams split into two pools, after which the top three from each go into a third group to compete for a spot in the final.
The bottom two teams from each pool go into a fourth group, from which the two nations with the worst records are relegated to the European qualification division.
"Our goal for the European Championships next year is to win a medal," said Carroll.
"And I think, given the nature of tournament baseball, if we're playing in the second week with a chance for a medal then the way that the cookie crumbles means we could end up with a gold just as easily as we end up with a bronze."
Despite missing out on an Olympic showcase in London, baseball and softball are starting to show signs of growth in the UK.
A new facility is due to be opened in Manchester in 2017, while the number of people playing the sport is increasing rapidly.
National Baseball League - 2015 teams

Bracknell Blazers
Essex Arrows

Herts Falcons

London Mets

Southampton Mustangs
South London Pirates
"Baseball and softball have never been stronger," said Will Lintern, national development manager of BaseballSoftballUK.
"We're at a position where we have 20,000 people across the two sports, twice as many people as we had five or six years ago.
"The adult baseball participation numbers are double what they were back in 2001; it's the highest they've been in 21 years."
It is hoped that getting more people playing baseball at grassroots level will eventually help in the British Baseball Federation's attempts to 'domesticate' Team GB and the National Baseball League.
In previous years, the national team roster was dominated by players based in North America or Australia.
But at last year's biannual European Championships in Germany and the Czech Republic, seven of the 22-man squad were playing in Britain, while six more were based in Europe.
"Having those domestic players not just being on the roster, but also on the field and playing games, actually playing very well, is a real step us for us," said British Baseball Federation president Earl Dix.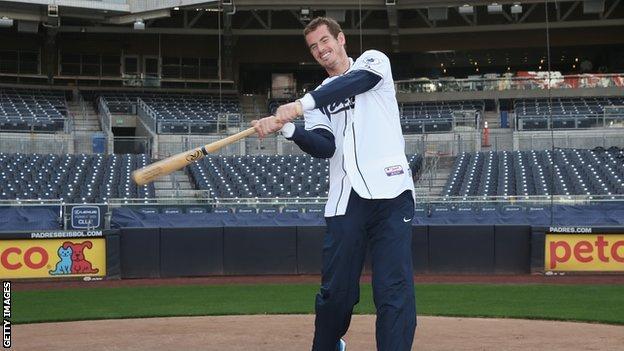 "It's been a real improvement and we're looking for further development".
"Last year we had a few more domestic players, this year we'll have some more and hopefully next year we'll have some more, but it's all going to be down to the quality of work we can do at grassroots level and within the BBF's leagues," said Carroll.
"There are some tremendous programs. The GB program at the youth level is running very well, the academy and the high performance academy that BaseballSoftballUK operate provide tremendous opportunities."
Sport England targets state that baseball and softball must be played by at least 24,000 people by 2017, though BaseballSoftballUK say they have a goal of 30,000 participants by that time.
But Lintern, who also coaches with the Great British junior teams, has much loftier long-term goals.
"We'll feel like we have legitimate success when not only is our national team achieving what it's capable of, but also when we're at that 50, 60, 75, 100,000 participation mark.
"Getting over 100,000 participants - that would be something that we feel is particularly successful."
In a country whose national side was playing teams like Lithuania and Georgia less than four years ago for a spot in Europe's top tier, those numbers would be a real home run.