Alex Rodriguez: New York Yankees slugger begins comeback
Last updated on .From the section Baseball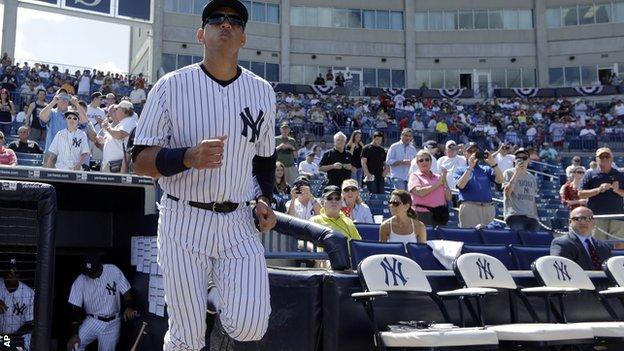 Alex Rodriguez began his comeback from a 162-game doping ban by hitting a single in a spring training contest.
He was greeted by cheers and boos as the Yankees faced the Philadelphia Phillies in Tampa, Florida.
Rodriguez, popularly known as 'A-Rod', wrote a letter of apology to Yankees fans last month.
His ban was the longest in the sport's history.
Anthony Bosch, the former owner of the Biogenesis clinic in Miami that supplied performance-enhancing substances to Rodriguez and other Major League Baseball (MLB) players, was jailed for four years last month.
Rodriguez, fifth on the all-time MLB home run list, has been named most valuable player in baseball's American League three times.
Alex Rodriguez
Fifth on the Major League Baseball all-time list for home runs (654)
American League Most Valuable Player in 2003, 2005 and 2007
Played for the Seattle Mariners and Texas Rangers before joining the New York Yankees for the 2004 season
Won the World Series with the Yankees in 2009
Has been romantically linked to celebrities such as Madonna, Cameron Diaz and Kate Hudson