Chicago Cubs fan Keith Hartley makes multi-tasking catch
Last updated on .From the section Baseball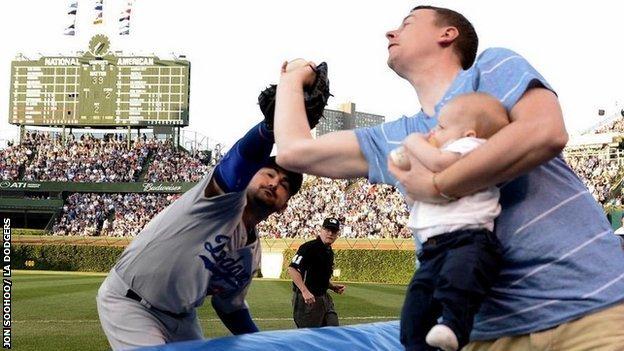 It is sometimes said men are not great at multi-tasking.
Keith Hartley, a 29-year-old Chicago resident, has done his bit to rubbish that theory and, in doing so, perhaps taken the 'world's greatest dad' title for a while.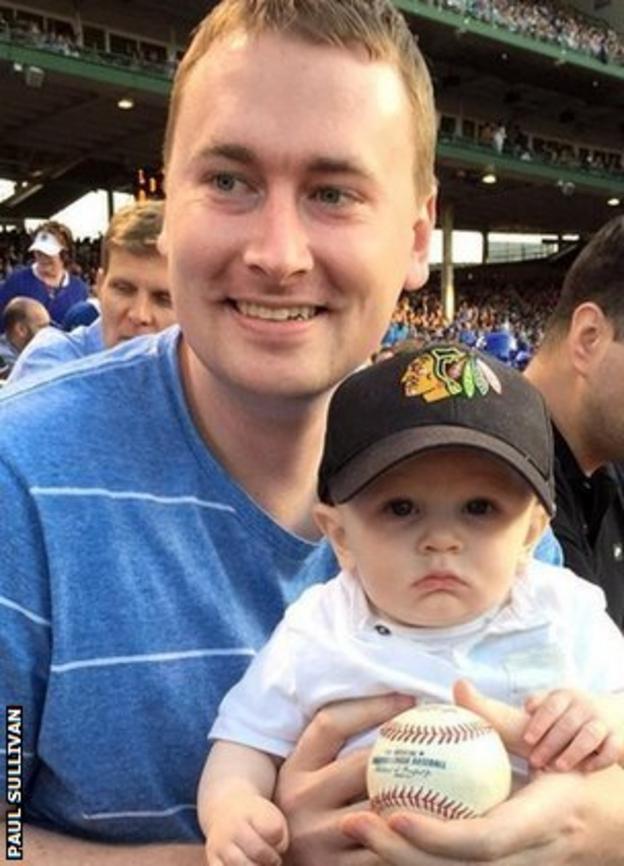 Watching his beloved Chicago Cubs, Hartley was in the middle of feeding his seven-month-old son Isaac when a ball struck from the bat of Jason Hammel came his way.
With the coolness even some professional players can only dream of, Hartley continued the feed, stood up, held his son in his left arm and caught the ball with his right hand.
"I'm just trying to protect him first," said Hartley, who said the seating arrangement he shared with friends was designed to ensure Isaac was at least risk of being hit by the ball.
"I didn't want to hit the ledge," he told the Chicago Tribune. "I wanted to make first contact I think."
If the multi-tasking nature of the catch was not enough, Hartley even beat LA Dodgers player Adrian Gonzalez to the ball, but turned around swiftly to celebrate, ensuring he did not incur the wrath of the first baseman, who later claimed he would have made the catch.
A raised right hand and point at the baby were Hartley's moves of choice when showing off his achievement to the packed crowd at Wrigley Field, where the Cubs overcame the Los Angeles Dodgers.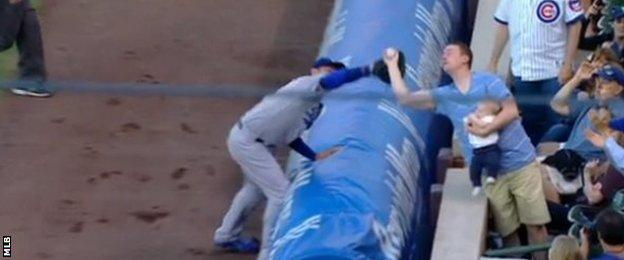 Hartley's intervention reminded baseball enthusiasts of a historic Wrigley Field moment from 2003 where Cubs fan Steve Bartman deflected a ball out of the reach of fielder Moises Alou in a crucial play-off game.
Bartman's fumble - with the Cubs closing in on a place in the World Series - went down in sporting folklore as the Florida Marlins went on to win the game, take the series and deny the Cubs their chance to win their first World Series since 1908.
Chicago Cubs manager Joe Maddon on the catch:
"That was outstanding. You worry about the baby, of course, but he looked like he had it under control. It looked like he did it before. That was really a great play, a great play. There was some levity involved for the entire audience."
Baseball spectators are typically ejected from a stadium for "fan interference" if they make a catch which prevents a fielder from doing so, as Bartman did, but Hartley was not asked to leave.
He claimed his Twitter was "going insane" and though one post branded Hartley "an idiot" for putting Isaac at risk, the majority of social media interaction was of a positive nature.
"He is my frontrunner for Sportsman of the Year," read one tweet.