Yogi Berra quotes: Baseball legend's memorable sayings
Last updated on .From the section Baseball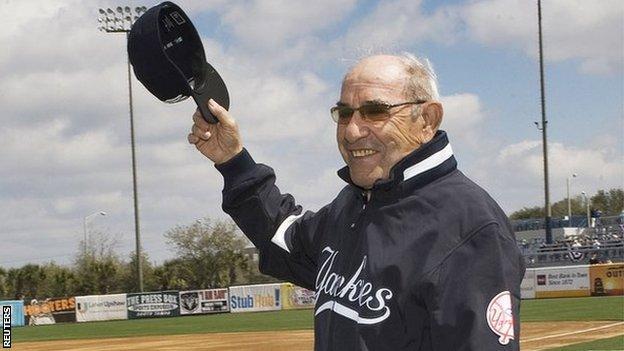 American baseball legend Yogi Berra died on Tuesday at the age of 90.
The Hall of Fame catcher spent almost all of his 19-year career with the New York Yankees and was a three-time Most Valuable Player and 13-time World Series champion.
However, he was also known for his funny quotes. BBC Sport takes a look at some of his most memorable sayings.
"I never blame myself when I'm not hitting, I just blame the bat and if it keeps up I change bats. After all, if I know it's not my fault that I'm not hitting how can I get mad at myself." When discussing a poor run of form he was in.
"It ain't over 'til it's over." Referring to the 1973 National League pennant race
"I knew I was going to get lost, so I left an hour early." New York Yankees were scheduled to play the Brooklyn Dodgers in a pre-season exhibition game at Brooklyn's Ebbets Field. Berra arrived first.
"He must have made that before he died." Referring to a Steve McQueen movie.
"I'd find the fellow who lost it, and, if he was poor, I'd return it." When asked what he would do if he found a million dollars.
"It gets late early out there." Referring to the bad sun conditions in left field at the stadium.
"Texas has a lot of electrical votes." During an election campaign, after George Bush stated that Texas was important to the election.
"Thanks, you don't look so hot yourself." After being told he looked cool.
"He can run anytime he wants. I'm giving him the red light." On the acquisition of fleet Ricky Henderson.
"You better cut the pizza in four pieces because I'm not hungry enough to eat six."
"It was impossible to get a conversation going; everybody was talking too much."
"Nobody goes to that restaurant any more - it's too crowded."