Bartolo Colon: New York Mets pitcher, 42, hits first home run
Last updated on .From the section Baseball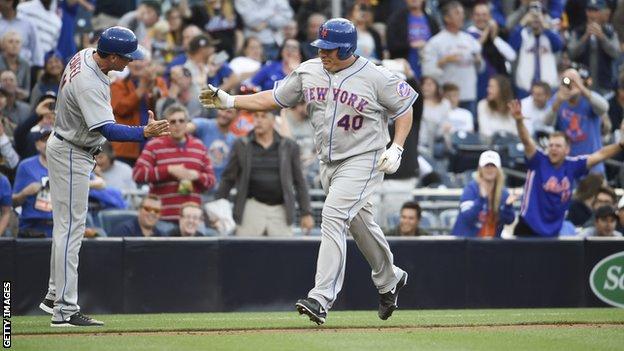 New York Mets pitcher Bartolo Colon has become the oldest player in Major League Baseball history to hit the first home run of his career.
The 42-year-old from the Dominican Republic, who has played in the MLB for 19 years, cleared the fence against San Diego Padres on Saturday.
It was the 226th time Colon had batted, and helped the Mets to a 6-3 win.
"I don't know how to explain it," said Colon, who weighs more than 20 stone. "Once I hit it, I knew it was gone."
Colon broke the record of Arizona Diamondbacks' Randy Johnson, who hit his first homer in 2003, aged 40.
We've got a new BBC Sport newsletter coming soon - to receive it from the start, sign up here.