Alex Rodriguez: New York Yankees slugger announces retirement at 41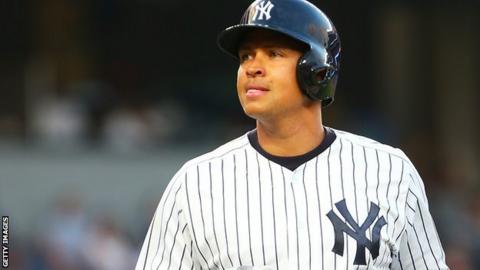 New York Yankees slugger Alex Rodriguez has announced he will retire from the sport on Friday.
The 41-year-old has recorded 696 home runs, putting him fourth on the Major League Baseball all-time list.
He was given a 162-game ban for doping in January 2014, meaning he missed the entire 2014 season.
Rodriguez's final game will be at Yankee Stadium against the Tampa Bay Rays and he will then take on an advisor role at the club.
He helped the Yankees win the World Series in 2009 and was voted the American League's Most Valuable Player in 2003, 2005 and 2007.
"This is a tough day. I love this game and I love this team and today I am saying goodbye to both," Rodriguez said.
"This is also a proud day. I was 18 when I broke into the big leagues and I never thought I would play for 22 years.
"No player ends their career the way they want to, we all want to keep playing forever but it doesn't work that way. Accepting the end gracefully is part of being a professional athlete.
"I want to thank the fans for letting me play the game I love."