Alex Rodriguez: New York Yankees legend retires after final game win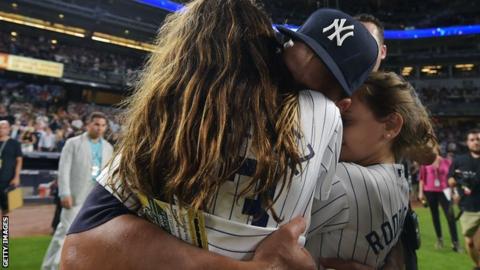 New York Yankees' Alex Rodriguez said he would not be "defined by his mistakes" as he retired from Major League Baseball after a 6-3 win over Tampa Bay Rays in his final game.
The 41-year-old hit 696 home runs - fourth on the all-time list - but was given a 162-game doping ban in 2014.
"I've given these fans a lot of headaches over the years. I disappointed a lot of people, but this feels good," he said.
'A-Rod' will now become a club advisor.
Rodriguez helped the Yankees win the World Series in 2009 and was voted the American League's Most Valuable Player in 2003, 2005 and 2007.
A sell-out 46,459 Yankee Stadium crowd chanted "We want A-Rod" as he was brought on to the field by coach Joe Giradi.
"I have a huge heart. This is the last time he plays. I wanted it to be something," Giradi said.
With the game won, Rodriguez was given the ball, hugged his team-mates, grabbed a handful of dirt, raised his cap and walked to the dugout, before covering his face with a towel.
He told a news conference: "With all that I've been through, and for them to show up on a night like tonight and show me that type love is something that I'll never forget.
"It was overwhelming."