New Orleans Baby Cakes: Minor League Baseball team renamed from Zephyrs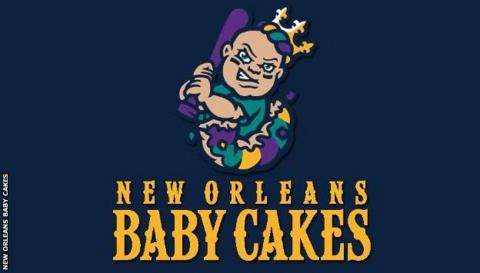 An online vote has decided a Minor League baseball franchise is to be re-named the 'New Orleans Baby Cakes'.
The Louisiana team, known for 23 years as the 'Zephyrs', asked fans to submit suggestions for the side's re-brand.
The teams new logo features a "determined looking baby" wearing a crown and holding a baseball bat.
President Lou Schwechheimer said the name was a "tribute to the Mardi Gras king cakes where small plastic babies are sought after".
The club have pledged lifetime passes to Baby Cakes games for each child born in the state of Louisiana in 2017.
One of the babies will also the recipient of a full, four-year tuition to the Louisiana university of their choosing when they turn 18.
Fan reaction:
Many fans have expressed their dismay at the re-brand on the Baby Cakes' Facebook page.
Curtis Moreaux: We are now the laughing stock of the league!! You wonder why enthusiasm and attendance is down? It's because of clowns like you in the front office! Unbelievable!!!
Andy Huffman: Hahahahahahahaha that's awful. People complained about the Pelicans, but bruh this is easily the worst name in Sports history.
Eileen Stone: No thanks! I will just wear my Zephyrs shirt and hat if I ever go to another game. NEVER gonna accept this new stupid name!
But not everyone thought it was a bad thing:
Brian Ostahowski: New era for the team and a couple of years down the road you'll be proudly wearing Baby Cakes gear!