Scooter Gennett hits four home runs for Cincinnati Reds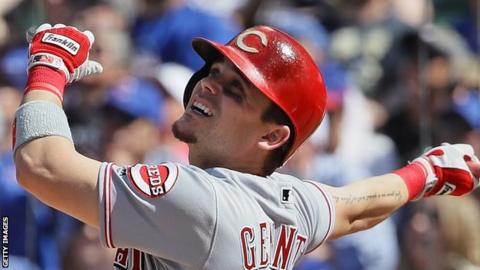 Cincinnati's Scooter Gennett became the 17th player to hit four home runs in a Major League Baseball game in Tuesday's 13-1 win over St. Louis Cardinals.
"It's surreal, man, it really is," said Gennett, the first Reds player to achieve the feat and who also tied a club record with 10 runs batted in.
"I'm truly blessed. Being from here, born here. It's an honour for sure."
No player has ever hit more than four in a game - Bobby Lowe was the first, for Boston Beaneaters on 30 May, 1894.
Josh Hamilton was the most recent to tie the record, for Texas against Baltimore on 8 May, 2012.