Robinson Cano: $240m baseball star banned for 80 games for failed drugs test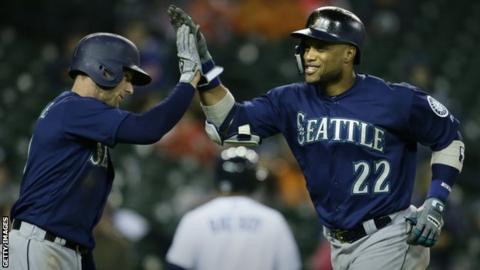 Baseball star Robinson Cano has been banned for 80 games after testing positive for the banned diuretic Furosemide.
The Seattle Mariners second baseman, one of baseball's highest paid players, has accepted the punishment, his team said.
The 35-year-old, who is halfway through a 10-year $240 million contract, said he took the drug on a visit to his native Dominican Republic.
"He made a mistake," the Mariners said.
Cano is an eight-time MLB All-Star with 305 career home runs and more than 2,400 hits.
He won the 2009 World Series with the New York Yankees.
"We were disappointed to learn today that Robinson had violated the terms of Major League Baseball's Joint Drug Prevention and Treatment Program," the Mariners said. "Our organisation fully supports the programme.
"He has explained to us what happened, accepted the punishment and has apologised to the fans, the organisation and his teammates. We will support Robinson as he works through this challenge."
Diuretics can be used as a masking agent to hide the presence of performance-enhancing drugs or to assist rapid weight loss.
"While I did not realise at the time that I was given a medication that was banned, I obviously now wish that I had been more careful," Cano said in the statement.
"I would never do anything to cheat the rules of the game that I love."