Welington Castillo: Chicago White Sox catcher banned for 80 games over failed drugs test
Last updated on .From the section Baseball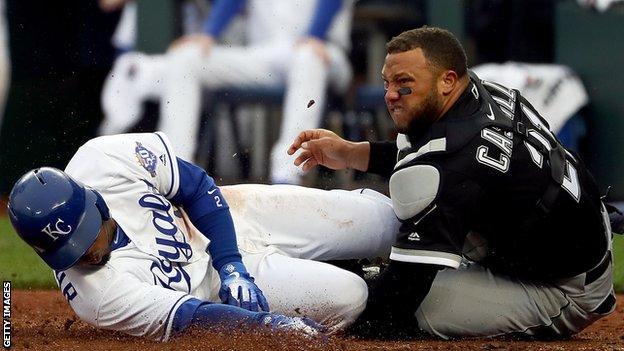 Welington Castillo has become the second Major League Baseball player in just over a week to be banned for 80 games because of a positive drugs test.
The Chicago White Sox catcher, 31, was found to have taken the banned performance-enhancing substance Erythropoietin (EPO).
Dominican Castillo will be eligible to return in late August.
Seattle Mariners star Robinson Cano got the same ban last week after testing positive for the diuretic Furosemide.
"The positive test resulted from an extremely poor decision that I, and I alone, made," Castillo said.
"I take full responsibility for my conduct. I have let many people down, including my family, my team-mates, the White Sox organisation and its fans and from my heart I apologise."
Castillo is in his ninth major league campaign, having joined the Chicago Cubs in 2010.
He also played for Seattle, Arizona and Baltimore before signing a two-year deal with the White Sox in December.
The White Sox are last in the American League Central division and have the second-worst record in Major League Baseball at 15-31.