Los Angeles Dodgers win longest game in World Series history, beating Boston Red Sox
Last updated on .From the section Baseball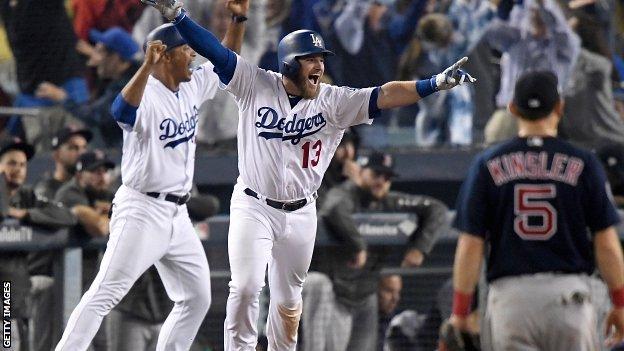 Max Muncy sparked delirium among Los Angeles Dodgers fans after hitting the decisive home run in the longest game in World Series history on Friday.
The contest stretched to 18 innings, lasting seven hours and 20 minutes, before Muncy's hit earned a 3-2 win over the Boston Red Sox in game three.
The Dodgers now trail their rivals 2-1 in the best-of-seven series.
The game beat the record shared by three previous World Series games - in 1916, 2005 and 2015 - of 14 innings.
The longest of those, in terms of time, lasted five hours and 41 minutes.
Friday night's encounter at Dodgers Stadium was also the third time a play-off game had gone 18 innings, matching games played in 2005 and 2014. The longest of those, in terms of time, was six hours 23 minutes.
Muncy's walk-off home run led to him being mauled by team-mates, who ripped off his shirt in celebration.
The Dodgers, chasing their first World Series title in 30 years, lost last year's Fall Classic to the Houston Astros - but will aim to level this year's series at 2-2 when they host game four on Saturday.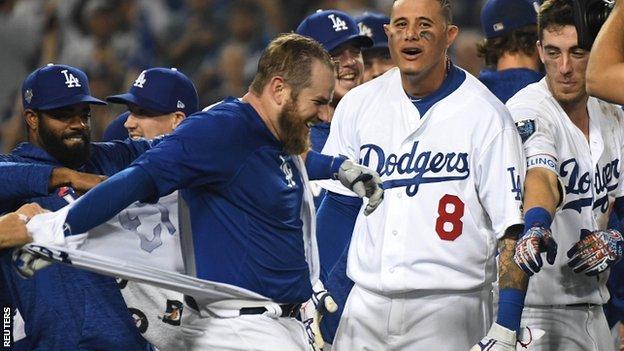 'Neither team was willing to give an inch' - analysis
Seth Bennett, BBC Sport at Dodgers Stadium
Neither team was willing to give an inch and as the game went on, it seemed like a mistake rather than a moment of brilliance would win it.
In the 13th inning, Boston took the lead for the first time, but the response was immediate from the Dodgers when with two outs, Yasiel Puig stepped up and hit the ball to Boston second baseman Ian Kinsler.
It should have been a routine play to end the game, but instead, Kinsler's throw was off target and LA levelled the game. It was the boost they have been looking for all series so far, with Boston dominating the big moments, and had Kinsler got the out, Boston would be on course for a sweep and talk about them being one of the greatest teams of all time would increase in volume.
Instead, momentum has shifted to Los Angeles who still need to win three out of four games to win the World Series, but it is a task they are very capable of completing.
Game three will have taken a toll on the players, but it will have also given the Dodgers a glimpse of Boston's fallibility and now they must look to capitalise on that if they are to win game four and ensure the series will head back to Boston.