London targeted as host city for 2013 Euroleague finals
Last updated on .From the section Basketball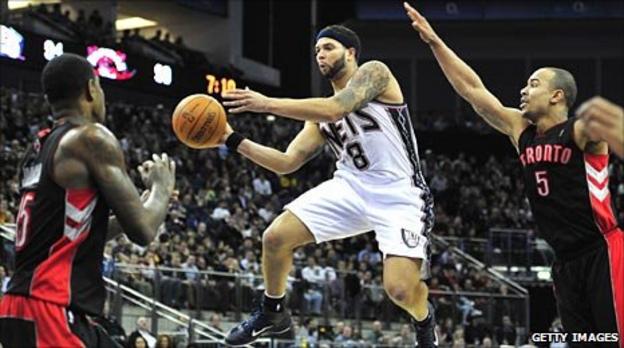 London's O2 Arena is being targeted to host the 2013 Euroleague finals, the continent's major club event, after its successful hosting of NBA games.
President and CEO of Euroleague Jordi Bertomeu told the BBC World Service that talks have already started.
Bertomeu said: "We would love to hold it in London. We already are working on this project.
"We want to increase the popularity of our game there. They have an unbelievably good building, the O2."
Bertomeu is looking forward to dealing again with AEG, who are in charge of the venue. He said: "I cannot deny that we have had talks with our friends from AEG to see if it's possible to organise the Final Four in the O2 in London.
"We have already had good experiences with AEG in Berlin and Paris. I am confident this event will be in London in the near future."
Despite the lack of competitive British teams at club level, Bertomeu hopes the Euroleague finals would raise the sport's profile even further after the NBA proved popular in the capital.
Great Britain will have teams in the 2012 Olympics so hosting the finals would only add to the post-Olympics basketball legacy in the UK.
"London and the UK is a very challenging market for basketball," admitted Bertomeu. "We definitely want to increase the popularity of our game there.
"In London there is a very important group of fans that loves basketball. It is a destination where everyone wants to go."