LA Lakers coach Phil Jackson bows out in defeat
Last updated on .From the section Basketball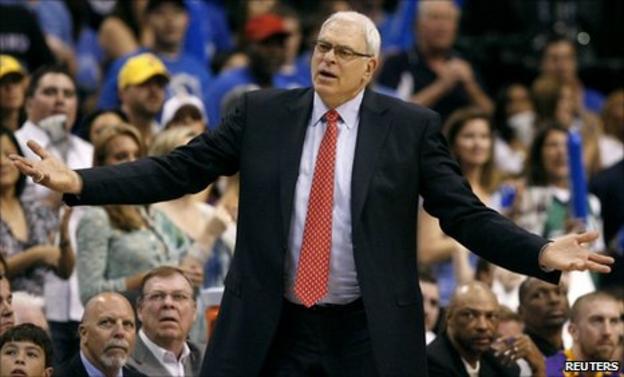 Legendary coach Phil Jackson retired on a "sour note" when Los Angeles Lakers lost 122-86 to the Dallas Mavericks in the NBA play-offs.
It completed a 4-0 second-round reverse for the defending champions, who had reached the last three finals.
Jackson, who led Chicago to six NBA titles and the Lakers to five, said: "I go out on a sour note after being fined $35,000 [£21,000] by the league today."
Jackson, 65, was punished for comments about officials in the series.
He added: "All of my hopes and aspirations are this is the final game I will coach."
Born in Montana and educated in North Dakota, Jackson holds the NBA record for most championships in NBA history, having also won two as a player for the New York Knicks in the early 1970s.
He began his top-level coaching career with the Bulls and had nine years in Chicago, twice winning three titles in a row, before departing in 1998 vowing never to coach again.
After a year off he returned with the Lakers in 1999, winning three more titles, but left the team in 2004, only to return a year later.
He announced last year that the 2010-11 season would be his final one.
Dallas ended Jackson's chances of one more success as they tied an NBA play-off record with 20 three-pointers in their convincing victory over an aging Lakers side.
Jason Terry recorded nine three-pointers and 32 points to send the Mavericks into the Western Conference Finals for the first time since 2006.
Kobe Bryant led Los Angeles with 17 points but the home side blitzed the Lakers 36-16 in the second quarter to take a 24-point half-time lead.
Two Lakers players were were ejected in the fourth quarter, Lamar Odom for a blindside blow on Dirk Nowitzki and Andrew Bynum for flattening the airbourne J. J. Barea with a powerful elbow to the side of his body.
Bynum's foul drew an angry response from the crowd, with objects being thrown towards the court and officials scrambling to keep order. The offending player took off his jersey and was escorted to the locker room.
Afterwards, Bryant paid tribute to Jackson. He stated: "I grew up under him. The way I approach things, the way I think about things - not only basketball, life in general - comes from him. It's a little weird for me to think of what next year is going to be like."