Great Britain end Guildford tournament with Latvia win
Last updated on .From the section Basketball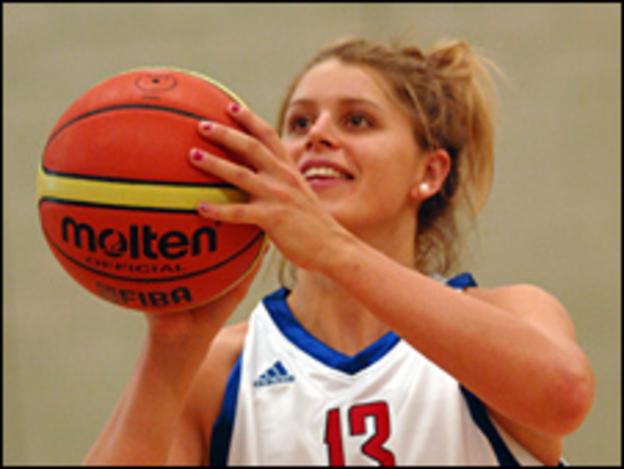 Great Britain's women ended their first pre-EuroBasket tournament with a 67-64 victory over Latvia in Guildford.
After defeats to Germany and Cuba in the opening two days, Tom Maher's team have some momentum as they travel to Turkey for their next tournament.
Untidy against Germany, Britain improved considerably against Cuba despite the 61-54 defeat.
Against Latvia, guard Natalie Stafford inspired the hosts to victory as she netted 18 points.
"The win definitely helps, but it's not everything," said head coach Maher. "You can't pretend it doesn't make a difference, but we're about getting good.
"This has been a really good tournament with good teams - it shows us what we have to do to reach our potential."
Britain's opening night, a 70-60 defeat to old foes Germany, was by no means the worst start to a summer programme.
"It was better than our first game last year - which is a positive thing," said Stafford. "But we lacked consistency and our defence was questionable."
Julie Page delivered a reminder of her immense value to the team with 22 points and 11 rebounds in the 61-54 defeat by Cuba, a game Britain should have won but for a fourth-quarter collapse.
"We got obsessed with the scoreboard when we should have carried on playing the way we had been," she said.
Page was once again in double figures against Latvia, with Stafford and Azania Stewart also prominent for Britain. The hosts withstood a stirring comeback as their opponents, who fought back from a 19-point deficit, held on for their first win of the summer.
Overall, the team defended reasonably well but their shooting was poor, missing every single three-point effort on the first two nights. When they eventually connected against Latvia, it was at the 14th attempt.
As Maher acknowledged, the team's principal long-range shooting threat was sitting on the bench in the form of leading scorer Johannah Leedham, whose all-round skill set offers a range of both offensive and defensive options.
"We're a different team with her," added Maher.
Britain will receive a boost when Leedham rejoins the team, most likely on their next stop in Turkey after she completes her rehabilitation from a knee injury which has curtailed her club season in Poland this year.
In Antalya, Britain will face Montenegro, Turkey and Croatia in a tough tournament line-up before returning to take on WNBA team Atlanta Dream in Manchester.
After that, the team leave for a tournament in Latvia and two games in Slovakia before EuroBasket starts in Poland on 18 June.
The Guildford tournament suggested the squad may have greater depth than last season, with useful cameo performances from Steph Gandy, Chantelle Handy and Rachel Vanderwal, while the returning Roz Mason and the emerging Lauren Thomas-Johnson may also have significant contributions to make.