GB women lose final European Championship game to Russia
Last updated on .From the section Basketball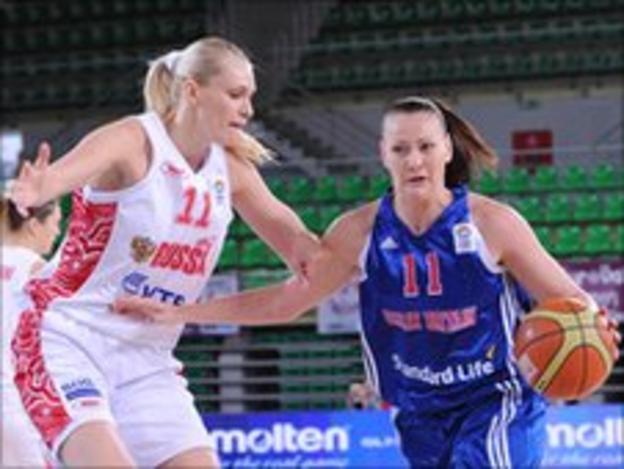 Great Britain's Eurobasket campaign came to a disappointing end with their third narrow second-stage defeat in a row, 62-59 to Russia in Bydgoszcz.
GB led by as many as 10 points in the last quarter but again found scoring hard to come by with a win on the line.
Kim Butler led the effort with 15 points and Natalie Stafford added 14 for GB, who will fly home on Tuesday.
The defeat means the win over Israel was the only victory for coach Tom Maher's team in six matches in Poland.
"They overwhelmed us at the end - they were desperate and we didn't have the poise to combat it," said Maher. "But clearly we've earned respect - people here are not being dismissive of Great Britain basketball."
GB had been eliminated on Saturday by a combination of their own 64-57 defeat by Turkey and Russia's victory over the Czech Republic, which meant the former champions still had a chance of finishing second in Group E and improving their chances of making the semi-finals.
From the start, GB looked like the team chasing a better quarter-final spot. Kim Butler's nine points led an opening charge, capped by a Johannah Leedham three-pointer, that brought an 18-6 lead as Russia failed to score for six minutes.
That lead grew to 25-10 before Russia's second-quarter 12-2 surge, during which they held GB scoreless for almost five minutes, brought them back into contention, trailing 27-22 at half-time.
GB's lead lasted little more than two minutes after the interval - prompting Maher to shout "you don't deserve to start" to the players who began the half for him. They later regained it with the aid of hard work from Butler and Azania Stewart and six points from Stafford.
In the fourth quarter, GB held a 55-45 lead after Butler hit four free throws in a row with five and a half minutes left on the clock, but they only scored four points in that remaining time.
Russia hit eight points in a row in the last two minutes to rescue themselves and take a 62-57 lead. An absorbing game then ended on a sour note when Ilona Korstin opted to end her ongoing feud with Stafford by elbowing the British guard in the chest with 1.4 seconds left.
Korstin was ejected and will now miss Russia's quarter-final. Stafford hit both free throws, but GB could not generate a shot from the extra resulting possession and were left to rue another missed opportunity.
Russia were led by Elena Danilochkina's 16 points, and it was her three-pointer with 48 seconds remaining that proved a massive blow to GB's hopes.
"We just need to mature a bit as a group, I think that's what's letting us down," said GB forward Julie Page. "The other teams, they have that experience - they know how to win. We're young, we don't have that sort of experience."
"The Lithuania game was worse," added Maher. "It's not a time for self-pity - the fact is that if we'd been offered these results before the tournament we'd have taken them and gone to the bar. These girls have shown a lot of fortitude."
Despite their run of defeats, GB's women have broken new ground in Poland by becoming the first home national team - men's or women's - to progress to the second phase of a European Championship finals.
"We've proved that we can play at this level," said Page, who is already looking forward to next year's Olympics. "We just need to learn from this tournament and bring that to the court with us next summer."