GB basketball coach confident for 2012 Games after Euros
By Jessica Creighton
Olympic sport reporter
Last updated on .From the section Basketball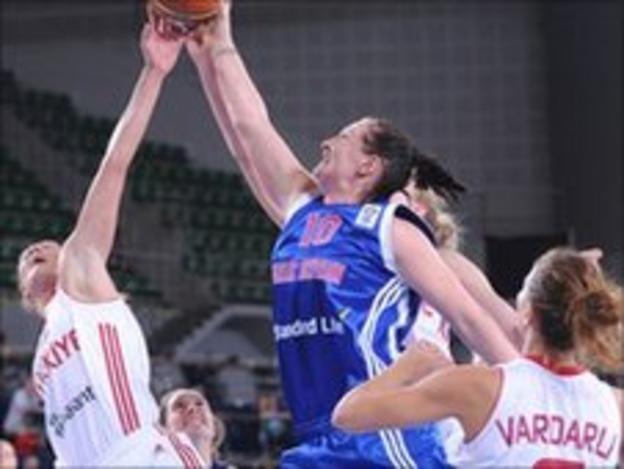 Great Britain coach Tom Maher says his team will have a good chance at the 2012 Games after their debut at the European Championships.
GB surpassed expectations by reaching the second group stage in Poland.
Despite winning only one game in six, they came nail-bitingly close to beating experienced teams like Lithuania and Russia.
"I have a lot more confidence for 2012," said Maher. "We can get better as a team if we develop our talent."
The Australian coach told BBC Sport: "Everyone at GB Basketball is delighted with the campaign. To be able to compete with the teams we did was phenomenal. Our results were the height of our dreams."
In a thrilling encounter with Lithuania in the second round, GB were in the lead in the final minutes of the game and about to produce a shock victory before giving away a defensive foul and allowing Lithuania to win by a one-point margin in the dying seconds.
And there followed a similar pattern when they played 2009's EuroBasket runners-up Russia.
Despite already being out of the tournament, GB were on course to cause a major upset as they led the Russians by 10 points in the fourth quarter, only to crumble in the closing minutes and gift them a 62-59 triumph.
Maher continued: "We should have beaten Lithuania. We could have beaten Russia - our lack of experience was shown up by their athletic ability. But we were able to compete.
"To go to that type of competition and be able to compete with countries that have a strong tradition of basketball was great. This was a tournament of world-class teams and players - players that play regularly in the world's top teams."
In what was a historic appearance in the EuroBasket finals - the first time any women's basketball team from the home nations has competed in the tournament since Scotland in 1956 - Maher feels the team outperformed expectations.
"A lot of people expected us to be ambushed and get smashed by every team so our results were very pleasing," he commented.
"It would have been easy for the players to walk out on court and crumble against bigger team like Belarus and the Czech Republic.
"But they didn't. The players' attitude was really good. Our mentality shows we can become a force in basketball."
Gutsy performances against strong European teams in this tournament will bode well for the squad in 13 months' time, when they begin their Olympic campaign.
"We were perceived as a real basketball-playing nation by the end of the tournament. The other teams were complimentary to us and I think we're seen as a legitimate team now," Maher said.
Johannah Leedham, arguably Britain's most prominent player, could only play a limited role in her team's campaign because she was recovering from knee tendinitis.
Yet the Chester-born player was GB's leading scorer with 12 points per game.
Maher will hope to nurture Leedham's talent in the run-up to the London Olympics, when she joins his Australian side Bulleen Boomers for the forthcoming season.
Forward Julie Page also made a strong case for her inclusion in the Olympic squad with 10 points per game and 7.5 rebounds.
"Julie had a terrific tournament," Maher said. "But to single out individual players in the team who performed well takes away from the team effort.
"We don't have a star player that will regularly get us 20 points a game so working as a collective is important."