Fatherhood means Great Britain's Ben Gordon misses Eurobasket
Last updated on .From the section Basketball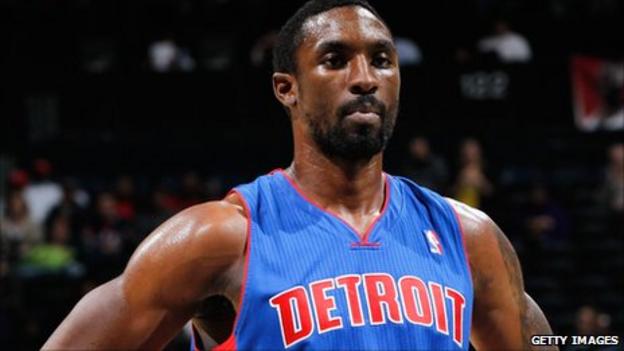 Great Britain's Ben Gordon says the birth of his son is one of the main reasons he will miss the European Basketball Championship.
Gordon also faced insurance problems caused by the NBA lockout.
The Detroit Pistons star is still intent on representing Great Britain at the 2012 London Olympics.
"I really had my mind set that I would play this summer but, with the birth of my first son, to me, it wasn't best suited for my family," he said.
"And I didn't want to rush the situation and have it be an inconvenience.
"It would probably be smart to wait until next year."
Gordon admitted fears over an injury suffered while playing for Britain were also a factor.
British Basketball could not broker a deal that would allow him to play despite coming to an arrangement for team-mate Luol Deng.
The lockout began on 1 July with owners calling for an overhaul in the NBA's pay structure.
This created insurance issues and GB cannot afford the same level of cover.
Gordon said: "All the stuff that's going on with the lockout, there were too many bad signs so I didn't want to force it and end up regretting it.
"When the NBA announced the lockout, they sent a letter out. Number nine on the letter pretty much says any serious injury you might acquire while the lockout is going on can void your contract. So right now, my risk tolerance is pretty low.
"There's no need to put myself in that type of risk right now. It's not like the Olympics are this summer.
"I just pretty much weighed my options until the very last minute and then just went with my gut feeling."
Performance director Chris Spice said: "We are obviously very disappointed that Ben is not able to join us this year but we fully understand and respect his decision.
"This is a difficult and complex insurance issue caused primarily by the NBA lockout.
"We have done our best to provide a cover that is close to what we would have in a normal season but in the end things didn't work out from a financial or scope of cover perspective.
"We have built the reputation of our programme to such a level that all the professional clubs know that their players are well provided for when they are with the British squad."
It has already been confirmed that Chicago Bulls player Deng will compete for Great Britain in Eurobasket 2011, which takes place from 31 August to 18 September in Lithuania.
Without either man, Great Britain secured a 96-70 win over Netherlands on Sunday evening in Cobham, Surrey, in their first warm-up match of the season.
Spice added: "Unfortunately for both Ben and ourselves we are unable to connect again this year.
"It will be doubly important that next year we have everything in place for Ben to join us on day one of the programme, as every day he is with us will be key to performing at our peak for London 2012."
Deng was able to negotiate an insurance deal with Team GB representatives to ensure he could compete in the event.
"Playing for GB is always important to me so I'm really glad we could resolve this," said the 26-year-old Deng.
"It has been a long process but a great team effort. I can't wait to join the team and prepare for Lithuania."