Basketball coach Chris Finch targets composure for GB
By Jessica Creighton
Olympic sports reporter
Last updated on .From the section Basketball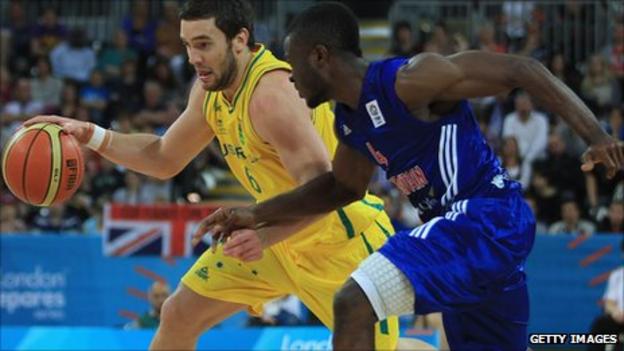 British basketball coach Chris Finch wants greater composure from his team following their defeat by Australia in overtime at the Olympic test event.
GB fell 91-90 to the Boomers in a tight game at the Olympic Park, their fourth loss of the tournament.
Finch told BBC Sport: "We're making some less than intelligent decisions under pressure - and not just by our young players.
"At the moment we're repeatedly giving up games at the end."
The USA-born coach added: "We can turn it around [before the European Championships later this month]. But at the moment we're scrambling to get guys in the right spots."
In a scincilating game, Britain fell 39-35 down in the first half but battled back from an Australian 10-point lead in the third to take the game to extra-time.
The home side held the lead for long periods but two free throws by Australia in the dying seconds secured victory in front of a big crowd at the Olympic basketball arena.
Luol Deng led GB's offence with 26 points, the Chicago Bulls' star was playing only his second game for his country this Summer.
Finch said: "Luol Deng is definitely rusty, that's why these games are important. He needs to knock off that rust.
"We have time to get him in shape and in sync with the rest of his team-mates. He's a very important player for us so we have to put him in a position where we think he can help us."
After four losses from five in the competition, GB head to the European Championships in Lithunia, an important marker ahead of the 2012 Games.
GB's opponents include the hosts, reigning champions Spain, World Championship finalists Turkey and Poland.
BBC Sport summariser John Amaechi told BBC Sport: "They are moving into the group of death, it's an incredibly difficult group. The teams playing away from home are outstanding.
"GB is five to 10 critical errors away from being a good team. There are breakdowns in their concentration and focus and those are the type of errors you can't afford at this level."