Luol Deng says Great Britain deserve respect after Eurobasket
By Rob Dugdale
BBC Sport in Lithuania
Last updated on .From the section Basketball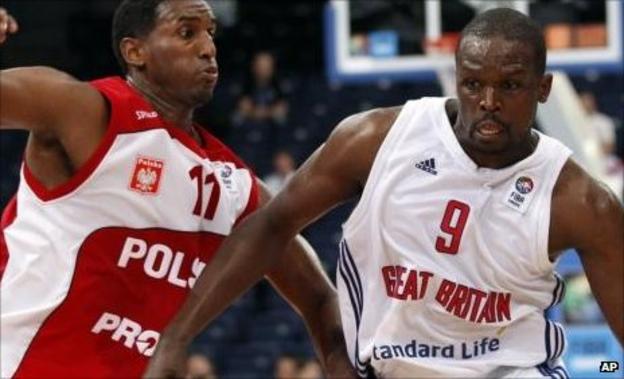 Luol Deng says Great Britain deserve credit for their performances at this summer's Eurobasket.
And he thinks he and his team-mates should get more respect from basketball commentators as they head towards next year's Olympics.
Great Britain lived up to their seeding in Lithuania by finishing fourth in a group that featured European champions Spain, hosts Lithuania and World Championship silver medallist Turkey.
Deng said: "I think sooner or later all the basketball geniuses will start respecting us.
"We're working very hard and we're trying to get there."
With only two teams certain to qualify for London 2012 from Eurobasket, with four others advancing to an additional qualifier, talk among the Press in Panevezys had suggested Great Britain's performances - particularly in the 29-point defeat to Turkey - were not of Olympic standard.
But Deng added: "It's a process. For anyone who thinks it's an overnight thing, it isn't.
"We know a lot of people are not respecting our basketball right now.
"But we've got a lot of confidence and are going to come back next year with a better team. We'll compete a lot better."
Deng's desire to carry a young team on his shoulders seemed almost painful at times but he insists it was nothing more than he expected.
The Chicago Bulls player told BBC Sport: "I'm all right with the team I have to work with. Everyone in the locker room deserves their place.
"There are young guys but, hopefully, this has been a good experience for them. We're not quite there yet in terms of experience and the little things that win you games."
Great Britain could still add the shooting of Detroit Pistons guard Ben Gordon for London 2012, together with the expected return of Pops Mensah-Bonsu, forced out of action this summer after shoulder surgery.
Deng said: "The guys that are not here are great players and they're going to make us better.
"We definitely miss Pops's presence - it just changes your whole defensive philosophy. Guys are afraid to drive in [to the basket] when you have someone as athletic as Pops. Those things win you games."
European basketball is different from the NBA version of the game Deng is used to at Chicago Bulls because defences are freely allowed to double and triple-team star players.
With the NBA locked out and looking set to lose at least a portion of the season to the dispute among players and owners, Deng might need to play in Europe to earn money this summer.
He said: "I like playing in Europe. I like playing with the national team. I like the way the game goes and the refereeing."
The lock out comes after a season when Chicago surprised many by winning their division - despite the opposition of LeBron James, Chris Bosh and Dwyane Wade at Miami Heat - and a good run in the play-offs.
The Brit added: "Last year was fun. When you work so hard and start winning, you start understanding. Last season just went by so fast - winning 62 games."