NBA lockout: Tentative agreement reached
Last updated on .From the section Basketball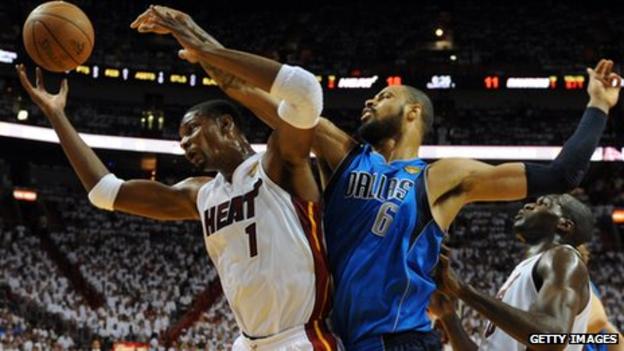 NBA commissioner David Stern says a "tentative understanding" has been reached to end the .
The start to the new season had been delayed owing to negotiations over a collective bargaining agreement between the league and players' association.
After a 15-hour meeting between parties on Friday, an end now looks in sight with the possibility of the NBA season beginning on Christmas Day.
"We're optimistic that the NBA season will begin on December 25," Stern said.
Several issues became the cause of the lockout, with team owners insisting on a 50-50 split revenue share, while players had proposed a 52.5% share. No details of the new agreement have yet been released.
In the previous collective bargaining deal that expired in June, players were guaranteed 57%.
The new agreement, which could see a triple-header of fixtures on Christmas Day with a shorter season of 66 games, is yet to be ratified but Stern added: "We've reached a tentative understanding that is subject to a variety of approvals and very complex machinations, but we're optimistic that will all come to pass.
"We're very pleased that we've come this far, there's still a lot of work to be done with a lot of committees, player groups and the like but we're optimistic that it will hold and we'll have ourselves an NBA season."
Players' union executive director Billy Hunter said: "We're happy that we've been able to reach a tentative litigation settlement with regard to many issues that are pending before the various courts.
"We're going to turn it all over to the lawyers and have them work out all the details and we'll be able to then talk with you (the media) further as the process proceeds."