Worcester Wolves aim for a first-leg lead in BBL semi
Last updated on .From the section Basketball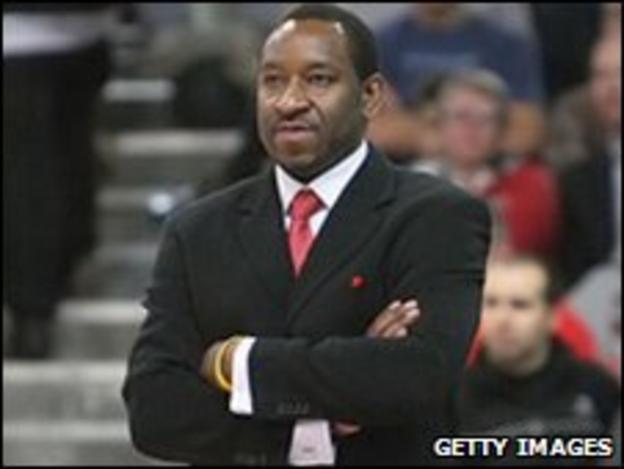 Worcester Wolves will aim to take a healthy first-leg lead with them back to Plymouth Raiders in this weekend's BBL Cup semi-final.
Head coach Paul James told BBC Hereford and Worcester he feels his side has the edge in some key areas.
"Maybe they [Plymouth] have got a bit of a shorter bench and that will hopefully be our strength.
"Hopefully we can go deeper than them and we are used to playing back-to-back games and I don't think they are."
Wolves will host the first leg of the semi-final on Saturday, 10 December with the return fixture taking place less than 24 hours later in Plymouth.
Paul James is looking to his side to make home-court advantage count so they can take a lead into the second leg but he insists if things do not work out that way then he will not be unduly worried.
"Any lead would be a good lead, although I have got to say we have probably played our best basketball away from home this season," he said.
"We don't really have any fears of going down to Plymouth and playing them.
"Last time we played them there we had them down by 26 points and we shot the ball extremely well in their gym," he added.
Victory over the two legs would see Worcester Wolves through to the first major cup final in their history.
Paul James is taking nothing for granted but he feels that, were the Wolves to make it through to the NIA in January, then it would be just reward for those who work hard behind the scenes.
"There is a lot of people who have been around this club for a long time - some of them for about 11 years," he said.
"To finally give them a little bit of payback for all their hard work and the blood, sweat and tears that have gone on over the years is fantastic.
"It's not only for the club and the people who support the team, but it's great for the city of Worcester as well to have a club that is playing at the top level who are doing so well."
The tip-off in the first leg of the BBL semi-final at Worcester University on Saturday, 10 December will be at 1900 GMT.
The second leg will take place at Plymouth Pavilions on Sunday, 11 December when the tip-off will be at 1630 GMT. Listen to live commentary.