BBL Cup Final: 'No pressure' on Raiders says boss
Last updated on .From the section Basketball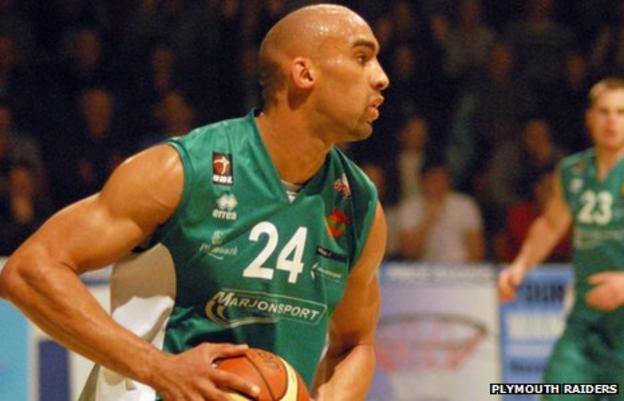 Plymouth Raiders coach Gavin Love says all the pressure will be on Newcastle Eagles in Sunday's BBL Cup final.
Newcastle have lost just one match in the league all season and lead the BBL Championship by four points.
"There's no pressure on us at all," Love told BBC Radio Devon.
"These guys have won I think 14 championships, they're the big name in British basketball so the pressure's off us somewhat. But I think we match up really well with this team."
And Love says his side have tried to face the match in the same way they would do with an ordinary league game.
"We'll approach it as we approach all the games. It's been fantastic this week, we've had a lot of exposure and obviously there's that bit of added pressure.
"But we'll do out best and hopefully bring our 'A' game, we've got a lot of veterans on our team, a lot of good players, experienced players and they know how important it is."
For the Eagles, last season's trophy-less campaign was a shock to the system coming on the back of a run of 13 trophies in the previous six seasons.
Three semi-final defeats, added to a runners up place in the BBL Championship in 2011 steeled Fab Flournoy's players to make amends in 2012.
"It's the first piece of silverware up for the season," Flournoy told BBC Newcastle.
"We didn't win a thing last season and everybody talked about it.
"I was disappointed last year as it wasn't our best or my best, but we were so close on everything.
"We go into this as favourites because of reputation, our record, but they do have a really good basketball team."
Raiders captain Anthony Rowe says that the final is what his side have been aiming for since the start of the season.
"This was our goal, to get to cup finals and contend with the best of them.
"Now that we're here we want to take the full opportunity and make the most of it."
Raiders last reached the BBL Cup final in 2009 when they were thrashed 103-49 by the Everton Tigers.