London 2012: GB's Jo Leedham on life down under
By Jessica Creighton
Olympic sports reporter
Last updated on .From the section Basketball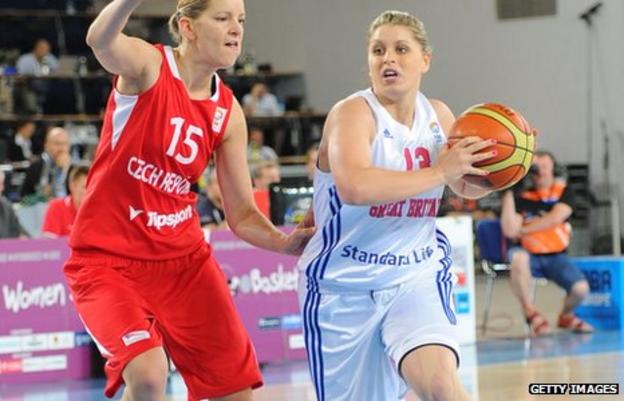 "I live, breathe, eat and sleep basketball," says British player Jo Leedham from her current home in Australia.
"The TV here is rubbish because I can't get any NBA, so I'm going mad."
Leedham made the decision to travel halfway around the world from her home town of Ellesmere Port in Cheshire to Bulleen just outside Melbourne - all for her love of basketball.
Now she plays in one of the world's top leagues, the Women's National Basketball League in Australia, with the formidable Bulleen Boomers.
It is an unlikely rise to prominence considering there was no professional women's league in the UK to nurture Leedham's talent and she was still playing netball up until she was 16.
"It came to a point where I was playing both of them (basketball and netball) at club level but my parents told me to make a decision. At the time, there was more opportunities for me with basketball," she told BBC Sport.
"To leave the country and go to the States was such an unbelievable opportunity," she says of being offered a place at Cheshire Academy High School in Connecticut to play and study.
"I absolutely loved netball, I grew up playing it. Basketball was pretty similar, but you could dribble, go all over the court and weren't restricted. And everybody could shoot. It felt more exciting than netball."
Roll forward eight years and 24-year-old Leedham seemingly made the right decision.
From Franklin Pierce College in the US retiring her number 16 jersey after a record breaking two seasons, to British Basketball naming her Olympic Athlete of the Year in 2009, Leedham has earned a glowing reputation within GB basketball ranks.
"I try to play with a lot of energy, I'm a gambler. I'm quite a gritty player, I don't mind getting in there and getting bashed around," Leedham said, who cites the NBA's LeBron James of the Miami Heat as her favourite player.
Leedham insists her perseverance on the court is testament to the robust upbringing she received off it: "The way my dad brought us up definitely had an effect on how I am."
"Me and my two sisters were like the boys he never had, he roughed us up quite a bit," she jokes. "Everyone will see me with my pink nails and think 'she's quite prissy.' But that's probably the only thing that's prissy about me, I'm quite rough around the edges."
Australia may change all that. The difference in lifestyle has forced Leedham to reconsider her usual routine. "The Australians have got it right over here," she said. "They work until they have to work and they relax and enjoy their free time."
"I say to my team-mates: 'aren't you going to the gym, aren't you doing this or doing that?', and they say we're chilling out. The people are so happy here.
"The league is amazing, the standard is really, really high. It's got a lot of players from the Australian (national) team as many of them have come back to play in the league before the Olympics. To practise with people of such a high calibre everyday is amazing."
The move down under has reunited her with Tom Maher, head coach of the Boomers and also of British Basketball's women's team. "Tom's helped me so much - physically with sharpening up my skills but also mentally," she stated.
"You can see in practice a thousand thoughts going through his head, he doesn't miss a beat, he sees everything.
"He's been a blessing to my game and GB Basketball - there's no way we'd be playing in the Olympics if he didn't come to our programme."
Despite the improvements Maher has put into place with Team GB, Leedham is candid about the team's chances against the world's best at their first ever Games.
"I know we're not going to the Olympics to try and win a medal. That's not what we're about. We're going to the Olympics because we want to show people in our backyard how good we are and inspire the younger generation.
"We just want people to watch us and respect us. We want people to see how hard we fight for the nation," she said.