London 2012: Luol Deng wrist injury worry for GB Olympic team
Last updated on .From the section Basketball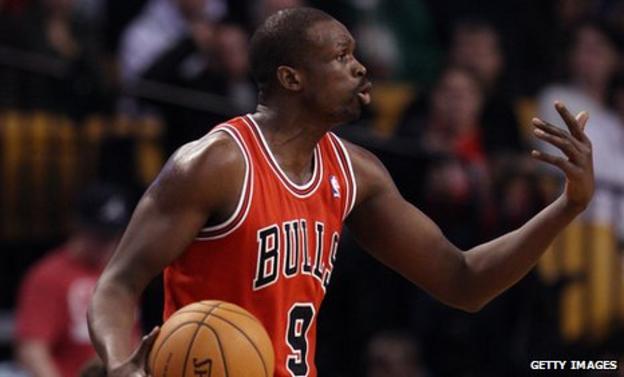 Great Britain forward Luol Deng has suffered a ligament injury in his left wrist which has raised doubts about his fitness for the London Olympics.
The 6ft 9in star's injury threatens to sideline him for a significant time, although he plans to delay surgery and return for the Chicago Bulls.
"I know it's a bad injury, but I'll be fine," said the 26-year-old.
Bulls coach Tom Thibodeau revealed Deng is "week-to-week" with the injury and that surgery was "a possibility".
Deng, though, said he was confident the problem could be handled with rest and rehab.
"It could always be worse. Injuries happen," Deng said.
"But I'm very confident that I'll be fine. And I feel like without the surgery I'll be fine.
"I really feel like we have a very good chance of doing something special.
"But it is what is. It's just: 'What do we do from here.'
"I just know what I can do with it and what I can't do. And I really think I'm going to be very effective out there."
Deng suffered a similar injury to his right wrist during the 2004-05 NBA campaign, ultimately having surgery before the end of the season, but is optimistic after consulting the doctors who treated him then.
"It's sore, but the soreness is going down a lot in two days," he said.
"So every day I'll keep treating it and see if I can get rid of the soreness and just try to be back there as soon as possible."
Coach Thibodeau told ESPN: "The fact is it's his left wrist. After consulting with the doctors, he feels this is the best course of action.
"So obviously we're pleased that he doesn't have to have the surgery."
Deng missed Britain's first ever appearance in a European Championships back in 2009 after failing to overcome a stress fracture in his right tibia suffered while playing for the Bulls.
He is averaging 15.9 points and 7.5 rebounds per game for the Bulls, who top the NBA standings at 16-3 despite a rash of injuries.