Derby Trailblazers boosted by EBL trophy glory
Last updated on .From the section Basketball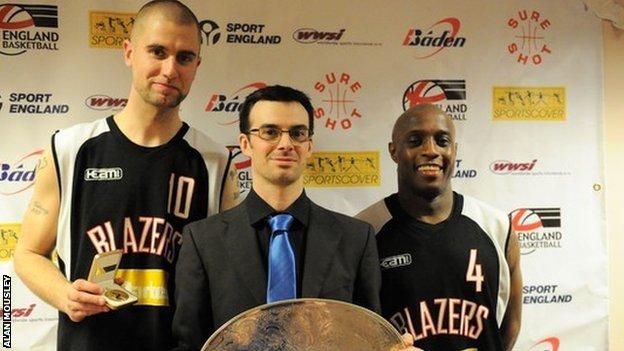 Derby Trailblazers coach Jamie Maudsley hopes their victory in the English Basketball League Trophy will further boost what he believes is a thriving basketball following.
Derby thrashed Bristol 87-60 last week to win the Trophy for the first time.
Maudsley said: "Basketball in Derby is in a healthy state.
"Our club has a mini's programme with 40 or 50 kids every Saturday, national league teams at U13/14/15/16 and U18s, three men's teams and a ladies' team."
He added: "We also have a flourishing basketball academy with two teams and we have plans to have a ladies academy team next season, so it's definitely in a good state.
"The Olympics are also potentially going to be huge for us. I read the other day that basketball will probably be one of the most watched sports after the athletics, so if we can tap into the furore that the Olympics generate, that would be great for the club.
Maudsley was also thrilled with the quality of his side's performance in the final.
"It's a huge win for the team and I hope it will benefit the club as a whole as well," Maudsley said.
"The challenge for us now is to build on this success throughout the final third of the league season, because there are two other pieces of silverware still up for grabs.
"That's the best we've played since I've been in charge. Bristol are a stand-out team. They've been at the top of the league for the last three seasons and I think it's testament to the way we played to win the game by that margin.
"The guys have worked really hard for it. We've worked hard in practice; we've done a lot of homework and it paid off with a really good performance."