London 2012: GB's Dan Clark says his team are 'very capable'
Last updated on .From the section Basketball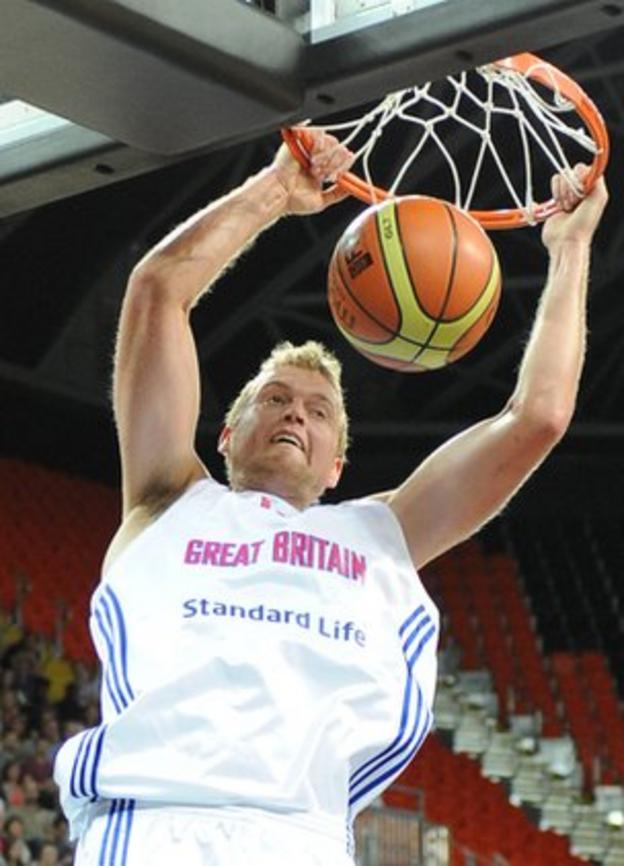 Dan Clark believes Great Britain's men should aim for a last-eight finish at the Olympic basketball tournament this summer.
The 23-year-old forward will join the team for a fourth year when head coach Chris Finch assembles his squad in May.
"If we aim for a place in the quarter-finals, it would be a disappointment if we didn't make it," said Clark ahead of Monday's Olympic tournament draws.
"We're aiming for the highest level possible - I think we're very capable."
GB are hoping to field their strongest team yet when the Olympic tournament starts, with six current or former NBA players in line for selection in the squad.
Although the current team have not competed on the world stage before, Clark says the way GB have evolved through European competition makes them a dangerous unknown quantity.
"We haven't really had everyone together since day one I don't think," he points out. "There has always been one or two players that haven't been there.
"We're looking forward to the summer and hopefully everyone will be there."
Clark, who plays in Spain for Estudiantes Madrid, grew up in Greenwich close to the site of the Olympic Park and represented England and GB at all age levels before making his senior debut in 2009.
He is 6ft 11in and his father Mark coached the England and GB women's basketball teams and his mother Claire represented both in her career. His sister, Ella, is in the GB Under-20 team.
When just 21, he scored 23 points in a qualifier in Sarajevo against Bosnia-Hercegovina, with five three-pointers from five attempts.
"Obviously I'd like to do that on a more regular basis," he says. "That would be my next aim - to get that feeling from that game on a more consistent basis.
"I feel like I've been working my way into a spot on the team where I can help the team by doing the things I'm good at. I'm happy with the way the team has been going so far and hopefully it will get better this summer."
Chicago Bulls star Luol Deng's elevation to NBA All-Star status this season has also given the team a psychological boost, he adds.
"I think people who have played with Luol - some of us for the majority of his life - think he should have been an all-star one or two years ago," says Clark.
"I think the players on the team have always looked at him that way, that he was an all-star who just hasn't been called up really.
"It all helps, being able to say we've got an all-star on the team, and it's a great achievement by Lu - he's representing Great Britain basketball in the best way possible."
Clark, who has 36 international caps, is looking to make further improvements to his game as the Olympics approach.
"I'm working quite a lot on getting stronger - off the court in the weight room," he says. "I think in today's basketball world everybody is so well developed physically, so you need to be strong.
"Obviously I'm keeping on working on the things I do well. Which is the shot."