Leicester Riders ease into BBL play-off semi-finals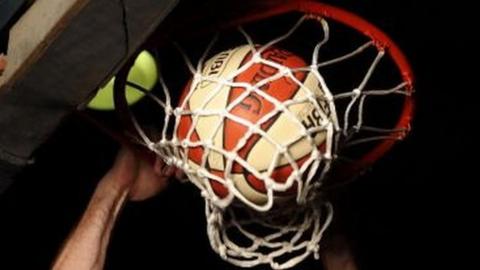 Leicester Riders secured a two-legged play-off semi-final date with Glasgow Rocks thanks to a crushing 182-141 aggregate win over Sheffield Sharks.
Riders dominated both legs, winning 92-76 in Sheffield on Friday and storming to a 90-65 success at Loughborough University on Sunday night.
Coach Rob Paternostro told BBC Radio Leicester: "Sunday was a carnival type atmosphere that made it feel special.
"Our players performed from the minute the game started."
Cameron Rundles was Leicester's star performer on Sunday, with 29 points in a one-sided contest.
Riders ended the regular season in second spot, just two points behind Newcastle with a record of 22 wins from their 30 games.
They were expected to beat Sheffield, who finished in seventh, but face a tougher game against Glasgow, who saw off Plymouth Raiders in their quarter-final.
Riders face Rocks in the first leg on Friday, with the return fixture on Sunday.