London's O2 Arena will host Euroleague Final Four in 2013
Last updated on .From the section Basketball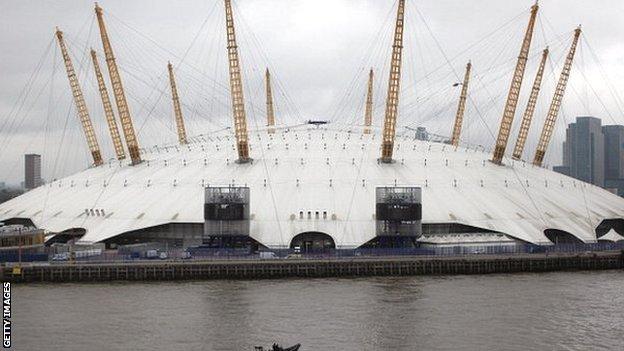 London's O2 Arena will host the Euroleague Final Four - the semi-finals and final of Europe's top club competition - in 2013.
It will be the first time Britain has hosted a major European club final.
The 20,000-seat O2 has previously hosted regular season and exhibition games between NBA teams as well as Great Britain international matches.
The arena will host the finals stages of the men's and women's Olympic tournaments later this year.
The decision, which includes the option of a second Final Four in London in 2014, was announced at the 2012 Final Four, which is being held in the Turkish city of Istanbul.
Russia's CSKA Moscow will play Olympiakos Piraeus of Greece in this year's final.
"I am confident that the Final Four, which is already an unforgettable experience for Turkish Airlines Euroleague fans, will take another step forward in London," said Euroleague CEO Jordi Beromeu, who described the O2 as "one of the most modern and spectacular arenas in the world".
The Euroleague has been dominated by the leading clubs from Europe's major leagues in Greece, Spain and Russia since it was set up in 2000.
The league was formed when a group of clubs broke away from the existing European League.
No British team has competed in the Euroleague since 2002, when the now-defunct London Towers completed their second season in the tournament.