London's O2 Arena to host Euroleague basketball finals
Last updated on .From the section Basketball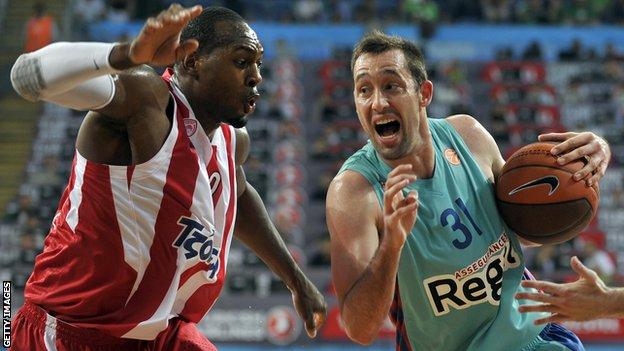 London's O2 Arena is to host the 2013 and 2014 Euroleague Final Fours, the continent's major club event.
The 20,000-seat venue has hosted a series of popular NBA exhibition games.
The Great Britain men's and women's teams have qualified to play at this summer's Olympics for the first time.
President and CEO of Euroleague Jordi Bertomeu told the BBC World Service: "We're trying to help the growth of basketball in the UK and this is one of the ways we can make a contribution."
The annual Final Four event, which has run since 1988, consists of the season's top four teams battling it out in two semi-finals and a final.
The O2 decision was announced in Istanbul ahead of Sunday's 2012 Euroleague Final Four final between CSKA Moscow and Olympiacos Piraeus, who won their respective semis on Friday.
Despite the lack of competitive British teams at club level, Bertomeu hopes the Euroleague finals will continue to raise the sport's profile.
"The success of the NBA games proves that the interest is there from the public. The British team participating in the Olympics has to add value to promoting the game," added Bertomeu.
"In London, we have an amazing building in the O2. When we are deciding cities, it's a combination of the venues and the infrastructure. I'm sure the fans will come."