Plymouth Raiders boss Gavin Love wants to keep American trio
By Brent Pilnick
BBC Sport
Last updated on .From the section Basketball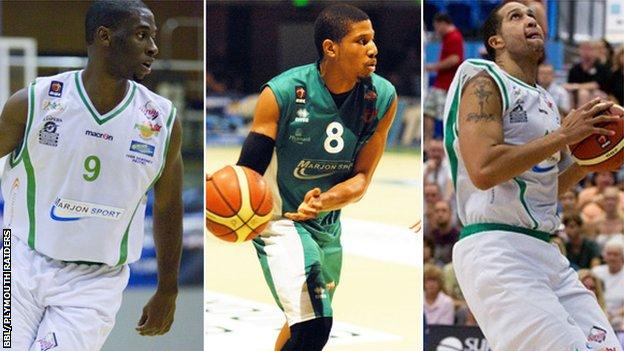 Plymouth Raiders boss Gavin Love hopes to bring back all three of the club's overseas players from last season.
Americans Lehmon Colbert, Jeremy Bell and Paul Williams all starred for the Raiders as they made the finals of the BBL Trophy and Cup last season.
When asked if he wanted to re-sign the American trio, Love told BBC Sport: "That is the intention.
"I've spoken to them and their agents and we're hoping they want to return to Plymouth next year."
Love has already done a deal to re-sign Drew Lasker who is no longer classed as an overseas player after marrying his British fiancee.
Centre Williams and 2011 BBL MVP [Most Valuable Player] Bell joined Plymouth at the beginning of last season while Colbert has completed his second season at the Pavilions.
But Love says if they decide they do not want to stay at the Pavilions for a second season he will have no hesitation in finding other overseas players to replace them.
"There are more players than there are clubs and if they don't want to play for me then I'll move on.
"I get 30 emails a day from people who want to come and play for me at Plymouth so I could find other players.
"But I want to keep the continuity within the squad that we had this season and build on the success that we had last year.
"We're very close to signing another European player and once those three are signed and sealed I'll move onto the permit players," Love added.