Edinburgh woman aims for Olympic basketball glory

By Brian McLauchlin
BBC Scotland
Last updated on .From the section Basketball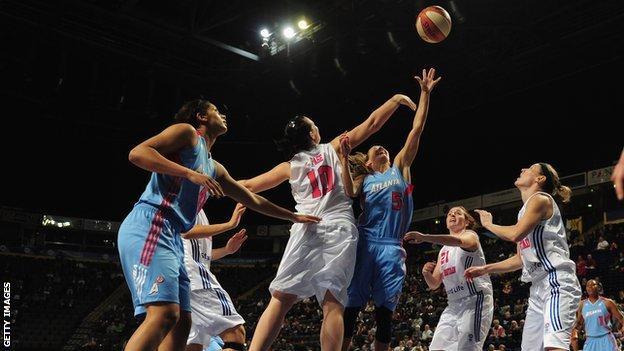 Scottish basketball fans get the chance to cheer on the Women's GB team this weekend before they compete at this summer's Olympics.
The team take on Canada in two test matches at Meadowbank Stadium as part of their build-up to the Games.
Rose Anderson, 24, from Portobello near Edinburgh, is the solitary Scot in the squad.
"I want to play the best I can," Anderson told BBC Scotland. "This is where I grew up playing the game."
Anderson studied at the University of Oklahoma and says that it was during her time in the United States that she was able to enhance her basketball skills.
"I was on a scholarship but was able to play full-time basketball as well," said the former Scotland Under-16 and Under-18 player.
"I knew that I had to take that step to improve my game.
"We were able to play and train every day and then we had games at the weekend."
Anderson is not the only athlete in her family. Her brother Kenny won a boxing gold medal for Scotland at the 2006 Commonwealth Games and that motivated her to do well in her chosen sport.
"Kenny did brilliantly in winning his gold medal and I think he has been an inspiration to a lot of people," added the guard.
Anderson said that being able to represent Great Britain at the Olympics would be a dream come true.
She continued: "There is still another cut in the squad to be made but it would be phenomenal to represent not only Great Britain but also Scotland and my family as well.
"I never imagined as a youngster that it would be possible to be in the Olympics, so I am really excited."
The matches against Canada are at Edinburgh's Meadowbank Stadium on Saturday 9 June with a tip-off at 1500 BST and Sunday 10 with a 1300 BST start.