Team GB's Drew Sullivan stays at Leicester Riders
Last updated on .From the section Basketball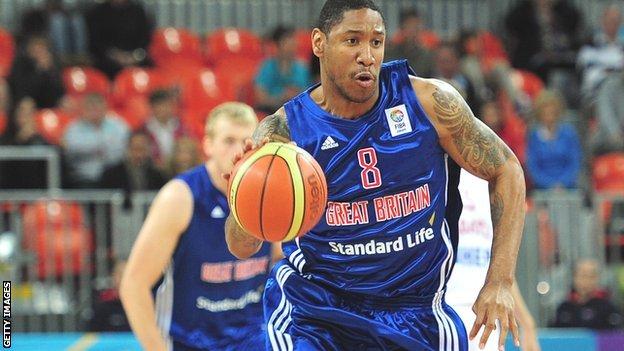 Leicester Riders have re-signed Team GB captain Drew Sullivan for next season.
In his first season with the club, the 32-year-old helped Riders to 22 league wins and the
Sullivan told the club website: "One of the the reasons I chose to return to Leicester was the chance to continue something that was started last season.
"We came extremely close to winning silverware, so returning to the club offers me the opportunity to achieve that goal."
Head coach Rob Paternostro added: "We made it pretty clear to Drew at the end of last season that we were interested in having him back here with us.
"Last season, he was instrumental in everything we did, both on offence and defence.
"He's a guy who is athletically gifted but most importantly, is a competitor and a winner."
Sullivan revealed that his friendship with general manager Russell Levenston was key to his return.
"Probably the biggest reason why I have returned to the Riders is the relationship that I've developed with Russell," added Sullivan.
"We've become really good friends and he's also looked after my interests on and off the court.
"So when the opportunity was presented that we could continue to work with each other it made a lot of sense."