MK Lions to move to London's Olympic Park and be rebranded
Last updated on .From the section Basketball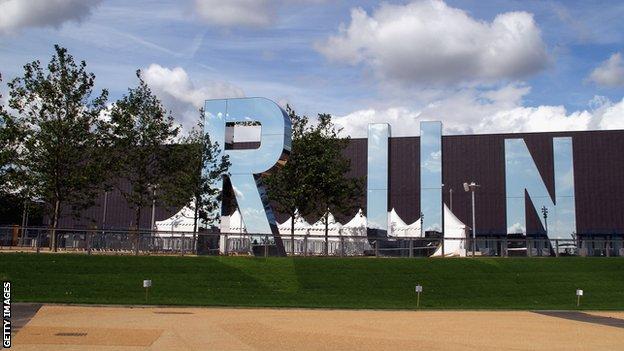 The MK Lions British Basketball League franchise are set to leave Milton Keynes and relocate to London's new Olympic Park.
BBC Sport has learned they will be renamed as London Lions and move into the Copper Box Arena - which has been used for Olympic handball - from 2013.
Until then they will play at Crystal Palace's National Sports Centre.
The Lions, who have played in Milton Keynes for 15 years, have been unable to secure a new home in the town.
The news means that London will have two top-flight teams, with the East London Royals, who will play at the Sportspark in Dagenham, also entering the BBL.
"We're excited to be in London, we've got a history in London, there'll be an automatic rivalry with the East London Royals, I think it's exactly what basketball needs," Lions chief executive Vince Macaulay told BBC London 94.9.
"The London Towers and London Leopards had an absolutely fierce rivalry in the hey-day of British basketball, so I think it's time we picked that up again.
"There's a new team in Manchester this season so very slowly all our big cities are joining in and the BBL is in great shape - it's been developing quite quietly over the last few years, trying to rebuild itself, the coverage on television has been increasing and now with BBL players on the GB team (at the Olympics), I think we're right there in the shop window."
The Lions franchise had been based in Milton Keynes since relocating from Hemel Hempstead in 1998, but had to play at three different venues in the city.
The lease on their most recent Winterhill base expired and plans to move to an arena adjacent to Stadium MK, the home of the city's League One football club, failed to materialise, prompting Macaulay to work on new plans.
And he believes that following the success of the Olympics, the appetite of people to attend a wider range of sports has increased.
"Football is very well catered for, we all love football, but we are a vast and varied community and there are big sports like basketball which matches football across the world.
"Let's not forget the massive amount of basketball taking place in London already, primarily at grassroots level and the England basketball level, which is the amateur level.
"We hope to join the party at the top level, help pull all of this development together and really show the rest of the country what we can do with basketball," he said.
The new BBL season gets under way on 21 September when the Lions, who finished ninth last season, travel north to face Manchester Giants.
Their first home game follows two days later against Newcastle Eagles and Macaulay said it was vital to start establishing their brand in the capital straight away.
"Everybody has talked about legacy - this is an actual, real, tangible legacy.
"We're going to have a professional basketball team in London, it's going to move into one of our Olympics venues.
"But it's important that we start right away - and we're starting with the BBL champions on the 23rd September, coming down to Crystal Palace," he added.