Plymouth Raiders sign American forward Javarris Barnett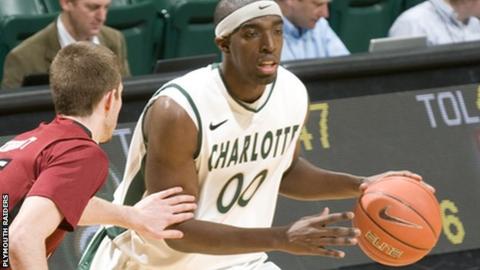 Plymouth Raiders have signed University of Charlotte power forward Javarris Barnett for the forthcoming BBL season.
The 22-year-old 6ft 8ins American completes Plymouth's line-up for the 2012-13 campaign and means there is no place for Lehmon Colbert.
"He's very athletic, keen and excited to get over here and make an impact on the BBL," said head coach Gavin Love.
Barnett averaged 12 points and six rebounds a game in the Atlantic 10 conference for Charlotte.
"I am very excited to start my career off in such a great place as Plymouth," Barnett said.
"I have done a lot of research and I am humbled to play for your Plymouth Raiders.
"The Raiders staff have welcomed me with open arms and I will do all I can to contribute to the success of the team.
"I have heard we have the best fans in England so I am looking forward to witnessing that in person.
"I look forward to a great season and once again [am] excited to be a part of a great winning program," Barnett added.