Leicester Riders chances hard to call - Rob Paternostro
Last updated on .From the section Basketball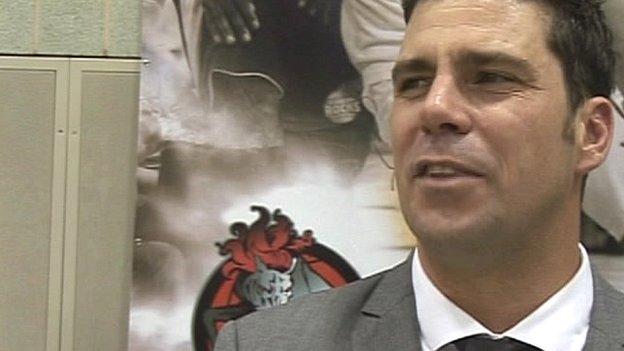 Leicester Riders head coach Rob Paternostro says he has "no idea" how his new-look side will fare this term.
But four new faces have arrived in the summer and Paternostro admits it will take for the team to gel.
"I have no idea [how Riders will do]. I haven't seen my group yet and I have no idea what the other guys are bringing in," he told BBC Radio Leicester.
Pavol Losenky, Zaire Taylor, Jorge Calvo and John Fraley have all been added to the Riders roster in recent weeks and at least one more new face is expected next week.
"A lot of guys are in good condition but we need to get the guys from across the water up to speed," Paternostro added.
"It's a long process and a lot harder than people think, but they should be here any day now."
And Paternostro says that until other sides finalise their teams and they settle in to the early part of the season, making predictions is virtually impossible.
"You try to stay on top of it," he said. "But with a lot of the signings they are released late, so when you are recruiting your team its hard to know what your recruiting against.
"We'll have no idea until the first couple of weeks when we see what everyone else has."
The Riders will play pre-season home games against a touring USA team on the 14 and 15 September.