Newcastle Eagles the team to beat in BBL - Fab Flournoy
By Steve Mundy
BBC Newcastle
Last updated on .From the section Basketball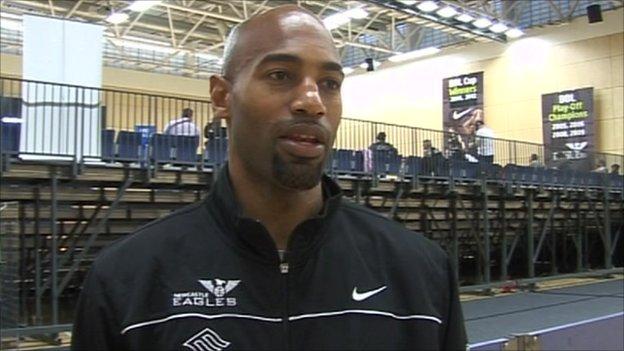 Newcastle Eagles player-coach Fab Flournoy has said being the "team to beat" for their British Basketball League rivals is a key motivation.
Flournoy's side recorded a clean sweep of all four trophies last term, losing just seven games across the programme.
"We're the team everybody feels they have to go through to win something," Flournoy told BBC Newcastle.
"More importantly for us we know every team is building a team to beat us, that is part of fire and the desire."
He added: "We're trying to remain dominant and stay one step ahead."
Despite the haul of honours, changes have been made within the squad - most notably with the departure of two Great Britain stars in captain Andrew Bridge and Andrew Thomson.
In return Anthony Martin has come into the player pool to complement a squad that has finished top of the BBL for four of the last five seasons.
"It was about bringing in some fresh blood, trying to ascend to another platform," Flournoy added.
"We haven't had a pure point guard since the likes of the living legend, TJ Walker.
"Anthony is fast, and this season obviously we had some battles last year because he was at Plymouth, we had to battle with him in the league, the trophy and again trying to get into the play-offs.
"He was one of the players that caught our eye, and one thing to give Anthony lots of credit - he wanted to be here.
"At the end of the season he was picking up the phone, he wanted to be part of the club, he wanted to win some silverware."
Flournoy and skipper Joe Chapman were talking on the BBC Newcastle Total Sport programme [Wednesday, 19 September], which you can hear again on the BBC iPlayer.