Guernsey's women basketball team aim for Bermuda 2013 medal
Last updated on .From the section Basketball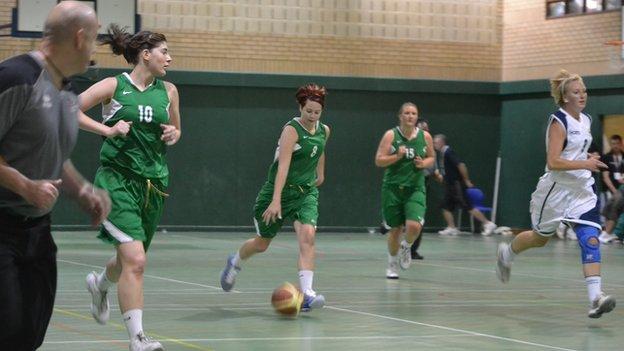 The president of Guernsey's Basketball Association says the women's team are hopeful of a medal at next year's Island Games in Bermuda.
The island's women won bronze last year after beating the 2013 hosts in the third-place play-off.
"We always hope to get a medal," Patrick Ogier told BBC Guernsey.
"The women have a very good record in the competition, they've only been out of the medals once in five tries so expectations will be high."
However, Ogier believes Guernsey's men will find it harder to win a medal against strong nations such as the Cayman Islands and Rhodes.
"The men's competition is always a bit stronger and more difficult, but we need to aim high in order to achieve our best performances," he said.
"They'll be looking to try and get an opportunity of playing for medal, whether that will happen or not I'm not entirely sure, but they're certainly working hard towards that."
The GBA will take a party of 29 players and officials to Bermuda next year and Ogier says the two squads have stepped up their training since the summer in order to be as prepared as possible.
"As the competition improves we have to adjust our techniques and get better, not just from a physical point of view, but from a tactical point of view as well.
"They need to have a broader spectrum of abilities when we come to play so we can adjust and try and live with some of the bigger and better teams that we've historically come to face," he added.