Basketball: Leicester's Drew Sullivan best in league - Paternostro
Last updated on .From the section Basketball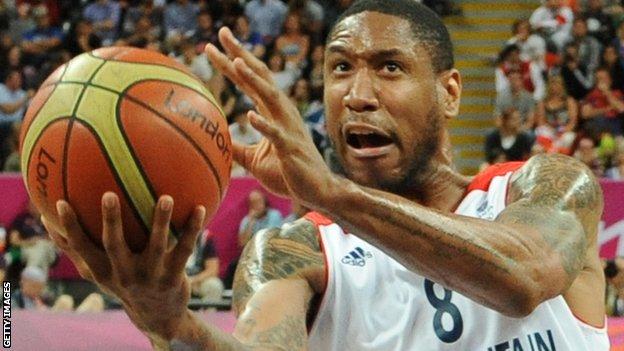 Coach Rob Paternostro hailed captain Drew Sullivan as the British Basketball League's most sought-after player after Leicester Riders maintained their 100% record with a weekend win-double.
And Sullivan was once again in fine from as Riders recorded a seventh successive success with a battling 79-75 home win over Cheshire on Saturday.
"We're so blessed to have Drew," Paternostro told BBC Radio Leicester.
"If you had to draft a player out of all the players in the league I'd find it hard to believe you wouldn't take Drew as number one."
Great Britain skipper Sullivan and his colleagues only arrived home in the early hours of Saturday morning following Friday's memorable win over the team that beat them in last season's play-off final.
And Paternostro said that had an impact on their performance just over 12 hours later.
"I think that [quick turnaround] was a big factor in the game, but my guys never quit," Paternostro added.
"We only made six from 31 from the free-throw line but when you still win the game it says something about their heart."