Britain's Joel Freeland set for Portland Trail Blazers NBA debut
Last updated on .From the section Basketball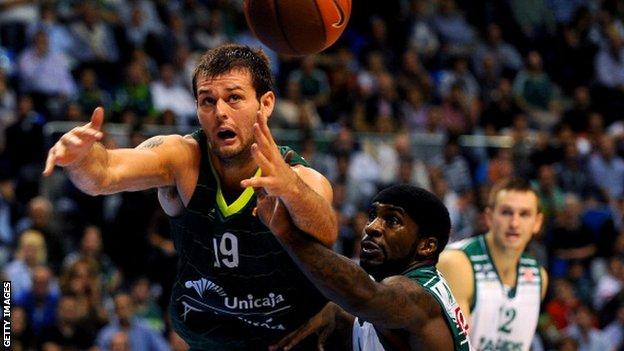 When Joel Freeland steps into the glaring lights of the Rose Garden on Wednesday evening, surrounded by nearly 20,000 hollering fans and a cluster of gambolling cheerleaders, the Englishman could be forgiven for puffing his cheeks and shaking his head in disbelief.
For the 6ft 10in Freeland has transformed from a gangly teenager, stacking shelves at a supermarket, into a member of the most celebrated basketball league in the world.
The 25-year-old Briton's NBA debut for the Portland Trail Blazers will be broadcast on national television across the Atlantic and Freeland laughs when he admits working at Sainsbury's feels like "a long time ago".
"I was 16 when I left there," recalls Freeland, who signed a £6m three-year contract with the Blazers in the summer.
"But it's a part of my life that I cherish because I've been given the opportunity to play in the best league in the world and it's something I'm going to take full advantage of.
"I've got an opportunity here to do something special and I'm really taking advantage of it."
Portland host LA Lakers for their season opener, a team with a roster of names recognisable to even those with little interest in the sport.
And Freeland predicts jostling against All-Stars like Kobe Bryant, Steve Nash, Dwight Howard and Pau Gasol will be an "incredible feeling".
"To even be on the same court as Kobe Bryant and Steve Nash is going to be an amazing experience," says Freeland, a member of Team GB's basketball team at London 2012.
"We've got a job to do, we've got to get the win somehow, some way, and I think we're ready to do that."
The story of a Surrey youngster who received a call from an NBA team while playing in the fourth division in Spain could have been written in the city his opponents represent.
He was a latecomer to the sport of giants, but says he fell in love with it "from the get-go".
Freeland, then 16, turned to basketball when he was forced to look for another hobby after breaking his leg playing football.
Within a year he was representing England's Under-18s and soon found himself in Spain, home of the second best league in the world.
While playing in the lower leagues he was drafted by Portland, becoming the 30th overall pick of the 2006 draft - the highest rank for a Briton in the history of the draft.
The Blazers encouraged the inexperienced youngster to remain in Europe to learn his trade and his progress was rapid, transferring from Gran Canaria to one of Spain's leading teams, Unicaja Malaga.
The latest chapter in Freeland's remarkable rise finds him in Portland, a city whose rainy climate has helped him quickly feel at home.
"I love this city," enthuses the Olympian as he prepares for the biggest challenge of his career.
"It's been great so far. I'm enjoying every minute of it. It has been a little bit tough, because it's a different game to what it is in Europe, but I knew it was going to take time.
"It hasn't been easy by any means but I'm learning every day. The Olympic Games gave me a better insight into how it's going to be.
"The speed of the game, the strength of the game, everything's completely different so that's something I'm going to have to adjust to."
Should Freeland's career continue in its upward trajectory, the rookie may not only have to adapt his game but also become accustomed to the razzle-dazzle of life as an NBA player.