Leicester Riders revel in reaching BBL Cup final
Last updated on .From the section Basketball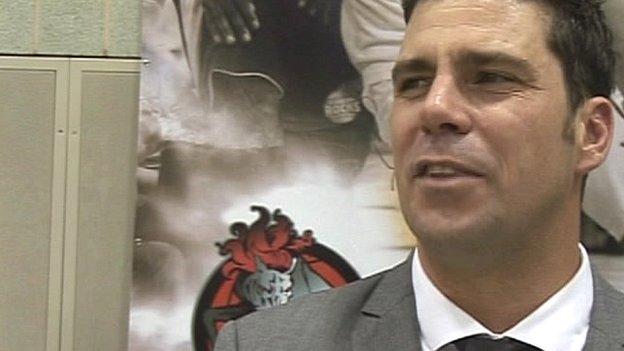 Head coach Rob Paternostro says Leicester Riders should revel in the achievement of reaching the BBL Cup final after cruising past Sheffield Sharks in their two-legged semi-final.
Paternostro told BBC Radio Leicester: "If you look at the history of the club there are not many of these.
"It's exciting. We are very appreciative to get to the final."
Next month's final will see the BBL's top two face each other as second-placed Newcastle Eagles beat Plymouth in the other semi-final.
"Both teams respect each other, Paternostro added. "These two teams have separated themselves from the others in the league this season so far, so I think it will be a final everybody will look forward to seeing.
"I am sure we will bring a great crowd to Birmingham."
Riders, who were beaten in last season's play-off final by Newcastle, have had a superb start to the season and are top of the table with just one defeat in 13 games - their only loss all season.
Eagles are just two points behind having only lost two league games this term.
Paternostro said: "It's a long way to go. It's fun for the fans to talk about being at the top of the table but we are not going to pay too much attention to that until the end of the season.
"We have a great group and I love these guys. They work hard and when you have a group like that it is exciting to come into work each day."