BBL Cup final: Paternostro praises Leicester Riders spirit
Last updated on .From the section Basketball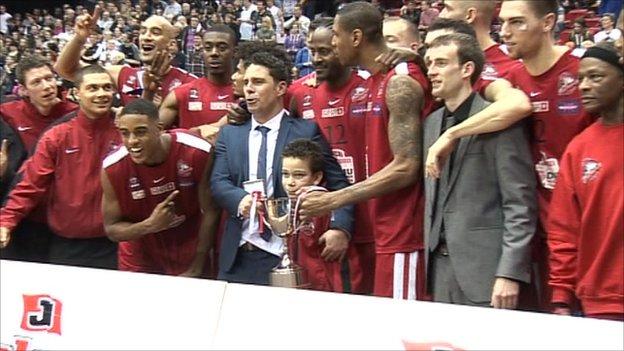 Head coach Rob Paternostro has praised Leicester Riders' team spirit after Sunday's BBL Cup final victory against holders Newcastle Eagles ended a 12-year wait for silverware.
to lift the season's first honours.
"It feels even better than I imagined," Paternostro told BBC Radio Leicester.
"There's been so much work put into it. This is a great team, not just basketball-wise, they've been through a lot together and they stuck together."
Paternostro continued: "It's wonderful for the fans. They've been with us all the way and I just want to hug everybody. It's a tremendous day."
Eagles won the clean sweep in 2012, taking all four trophies including the league championship, and accounted for Leicester in the play-off final.
However, Paternostro's side went into the game with victory against the reigning champions in the regular-season calendar and needed their big-game experience to fight off a fourth-quarter fightback from Fab Flournoy's side.
"I told them in the locker room that this is the team you were going to have to knock out, knock out again, and knock out again, they'll keep coming back," Paternostro added.
"But what makes our group special is this season we know how to win, we made the plays we needed to make."
For the Eagles, defeat in an 18th final was a third runners-up place in the BBL Cup since 2005, and a rare moment of disappointment for veteran point guard Charles Smith.
The 37-year-old has been part of the Newcastle set-up on an on-off basis since his debut in 1999 and was part of both clean sweeps.
"We brought it back, but we dug ourselves a deep hole," Smith said.
"Normally when a team does that they run out of gas and we did that right at the end.
"It's one of those nights, I didn't shoot the ball very well and a lot of the other guys didn't. If those go in we know the other side of this."