Luol Deng unlikely to play for Team GB this summer
Last updated on .From the section Basketball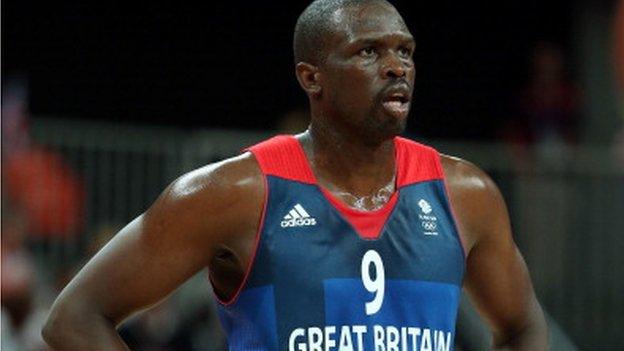 Chicago Bulls star Luol Deng has strongly hinted that he will not play for Great Britain this summer.
His loss would be a considerable blow to Britain's European Championship prospects, which would in turn impact the sport's plans for future funding.
Speaking at the NBA All Star Game, Deng said: "I haven't made the decision 100% [but] most likely I'm not [playing]."
Deng successfully appealed to Prime Minister David Cameron last month for UK Sport to review the sport's funding.
In Houston, Deng said: "I would like to have a season, or a summer - especially the summer coming up - (resting). Last summer I wanted to do the Olympics and I showed how much I wanted to do it.
"But this summer coming up I think I'll tone it down a little more but it doesn't change the fact that I'm with the team. I said that even before the Olympics."
Deng competed for Team GB at the London 2012 Olympics. While being knocked out before the quarter finals, they only lost by one point to eventual silver medallists Spain and beat China 90-58 to finish fifth in their group.
His likely withdrawal from the squad damages Team GB's chances of progression in the European Championships in Slovenia in September.
Future funding is linked to on-court performance, but Deng added: "This is not about the team getting the money or not, this is my decision. We have a lot of good players on the team to still be successful and we're in a good position. I fully trust in the guys.
"The funding is not just for me to play, the funding is more for the youth and expanding the game."