BBL Trophy Final: Leicester Riders 69-71 Sheffield Sharks
Last updated on .From the section Basketball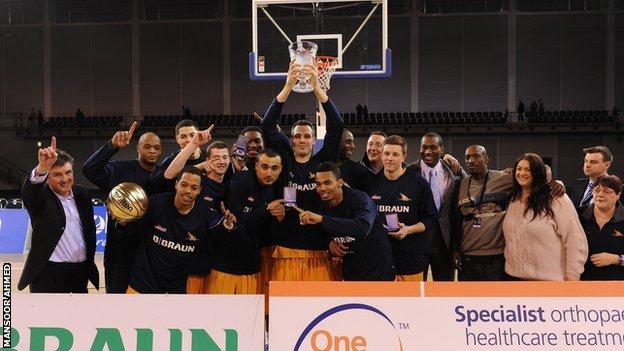 Sheffield Sharks won the BBL Trophy for the second time in their history with a 71-69 win over Leicester in Glasgow.
American guard BJ Holmes led Sheffield's effort with 25 points, including five three-pointers.
Demetrius Jemison added 15 points, while Jay Cousinard had 21 points for the Riders.
Sheffield led virtually throughout and resisted Leicester's late 11-2 surge to hold on and take the Trophy for the first time since 1998.
The Sharks were more aggressive from the start and their confidence was buoyed by Holmes' three three-pointers in the first quarter.
The underdogs posted the game's first 10-point lead when Demetrius Jemison's third basket of the second quarter saw Sheffield lead 37-27.
At the other end, Leicester missed shots and handled the ball poorly, relying on the experience of GB Olympic skipper Andrew Sullivan to keep the scoreboard ticking over.
Sheffield had two more threes from Holmes in the third quarter to keep the Riders at bay, but when Jorge Calvo levelled the game for the Riders with 1:22 remaining in the game, Leicester looked to have the momentum.
Two rock-solid free throws from Holmes with eight seconds remaining were enough to give the Sharks a deserved win.
Victorious Sharks coach Atiba Lyons said he never assumed his team would win, despite his team posting a number of 10-point leads in the game.
"Not against a team like this," he said. "You saw in the cup final that they can make shot after shot when they need to."
Lyons also praised his star shooter Holmes, who equalled the record for most threes in a Trophy final and was named most valuable player.
"He's been struggling a bit but he's a heck of a shooter," said Lyons. "He's shot well his whole career so maybe this will get him going again."
"It was one of those games where we played well in spurts and couldn't really find the right rhythm - but you have to give them [Sheffield] credit for that," said Riders coach Rob Paternostro.